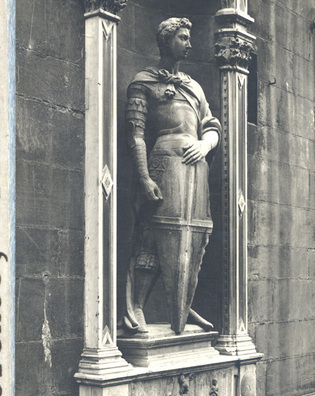 Yale University Libraries
A menacing day in late November, the sky alternately luminescent and lowering. Scully and his wife, the architectural historian Catherine (nicknamed Tappy) Lynn '81PhD, are headed for the Yale Bowl. Lynn drives. Scully declaims. "Watch out! Go, go! You, Tappy!" She is unperturbed. It would hardly be Scully without the passionate intensity, particularly not today, when Yale faces Harvard for the Ivy League title, and 60,000 people are due to attend. He has been dreaming darkly about this game, and losing sleep, all week. Just negotiating the traffic to the Bowl is a dire challenge. So when Lynn manages to cut off a Harvard man named Ted Kennedy at the gate to the VIP parking area, Scully is ferocious in triumph: "Look out!" he cries, as if to barbarian hordes surging down from the North, "We're ruthless! We'll mow you down! Oh, Tappy, you're marvelous."
It would be an understatement to call Scully a devoted fan. "I'm the twisted creature I am," he says, "in part because my father started taking me to Yale games when I was about four years old. I remember everybody being taller than me, and my father lifting me up so I could see what was happening." He doesn't merely recall the career of Albie Booth '32, Yale's legendary 144-pound back; he holds a 77-year-old grudge over it. "This is one of the main reasons why I always hated Army," he says. "Army threw the pass carefully to Booth, to be sure he got it, and then they got him. They all jumped on him. They broke his ribs. They gave him pleurisy. He was out for the rest of the season. And he died young; he was only about 45. Anyway, I always hated them."
An old friend of Scully's has e-mailed ahead to warn a visiting journalist what to expect: a single-minded focus on the game, punctuated by loud outbursts of strong feeling. But his friends understand "the exact titration of seriousness involved in any particular rant." They also know that "he sees things quickly -- almost before they happen. If he says 'First Down,' it IS first down. He is never wrong."
Today, though, the gods send their blessings elsewhere, and everything is wrong. Approaching gate 16, Scully digs into his coat pocket and realizes that he has mistakenly brought the tickets for the previous game, when a lingering cold and heavy weather kept him home. "Oh, you have them, Vince, keep looking," Lynn says, not falling for it. For 29 years now, he has been stopping at this gate and asking, "You brought the tickets, Tappy?" knowing perfectly well that they are in his pocket. But today they aren't, and this is a game for which every VIP who ever slinked through New Haven has been angling all week for a seat in the Bowl. Scully and Lynn quickly decide to brazen it out, putting the journalist with the valid ticket in front and scuttling close behind. It works.
But the game is a debacle. Scully watches grimly, fists jammed into the pockets of his herringbone coat. He is well behaved, except perhaps when he is likening a crimson patch of Harvard fans across the stadium to a cancerous growth. Harvard runs the score up to 37-0, and Scully bursts out in the strangled laughter of the forsaken, then sinks back into his coat. Despair sends the brim of his canvas sunhat down to meet the tips of his upturned lapels.
He is seated with a cadre of old friends at midfield, surrounded by university administrators, major donors, and members of the Yale Corporation. Tens of thousands of fans on this side of the stadium would know his name and probably remember his class among the high points of their college education. He is a Sterling Professor (emeritus since 1991), Yale's highest academic appointment, and Yale has named not one, but two endowed professorships in his honor. Still, Scully worries aloud about not having a ticket, as if someone might grab him by his J. Press collar and fling him back into the streets of New Haven.
And you get the feeling he almost likes it that way.
Scully's relationship with Yale has always been both fiercely loyal and gleefully subversive, a schizophrenic triumph of the inside-outside man. He has at times admonished university officials, notably in the successful fight to prevent demolition of parts of the Divinity School in the late 1990s. He has also often twitted them.
In the 1960s, for instance, Scully and the sculptor Claes Oldenburg '50 reconnoitered Beinecke Plaza one night when the library was new and the aesthetic pain still fresh. ("It hurts everything that was there before it," he said at the time. "All the rest of Yale is a gentle tonal unity; the Beinecke's area is one blinding white flash.") The two of them decided the library looked like a table radio and the sunken sculpture garden like an ashtray. What it needed, Oldenburg suggested, was a big cigarette resting on the garden wall, to put everything in scale. "But the director of the Beinecke was a fanatic who thought we were all Maoists, so we didn't dare do it," Scully recalls. "There would have been blood probably."
Instead, a group of students and faculty commissioned Oldenburg's Lipstick (Ascending) On Caterpillar Tracks and placed it on the plaza as a platform for dissidents. Later, when university officials were inexplicably unthrilled, the sculpture ended up in the courtyard of Morse College, where Scully was master.
Scully says now that he never wanted to be "the company man." Then he tells a favorite story, about a time he and the architect Robert Venturi were at the American Academy in Rome with Yale president Rick Levin. Venturi remarked that Scully had been the first member of the establishment to support his work, and Levin turned with eyes wide and said, "Member of the establishment! Are you kidding?" The exchange still makes Scully laugh. But later, he comes back to this idea of being the inside-outside man, as if troubled by it, to say, "Yale has always protected me."
He grew up in New Haven, in a two-family house at 61 Derby Avenue, halfway between the campus and Yale Bowl. His father was a successful Chevrolet salesman until the Depression, and later served as president of the board of aldermen. His mother was a singer, whose piercing coloratura seems to have given him a lifelong ambivalence about music. Neither of them went to college. But Scully never considered that he would end up anywhere other than Yale.
He entered Phelps Gate in 1936, the shank of the Depression, and the experience sounds Dickensian now. He was just 16, a townie from an Irish Catholic family with no money. "I hadn't gone to a prep school, I didn't know the proper codes. I knew the dress code all right, but I couldn't afford it." As a scholarship student, he worked freshman year waiting on his wealthier classmates in Commons. "You said, 'Will you have the meat of the day? Will you have the cold cuts?' And I didn't like it, I really didn't like it. I felt a lot of snobbery. Whether real or imagined, it poisoned my years at Yale. I had a few friends, but not many. And I just never grew up enough. Properly."
There were six movie theaters in downtown New Haven then, and Scully visited a different one each night. On the seventh night, "I had to decide which one to see a second time." Asked how long that went on, he answers in a burst of laughter, "Four years!" Fencing was Scully's other undergraduate diversion. His mask and épée now decorate the front hall of his house, on either side of a bust of Julius Caesar.
Scully majored in English, building up the store of literary associations that resonate through his lectures today. But the dry discipline of the New Criticism had infiltrated the English department then, and he didn't much like it. "I wrote a stupid senior essay -- you can see how decadent I was -- on the influence of Swinburne on Baudelaire, or vice versa, and it was very bad." He bailed out of a playwriting course in the last semester of senior year and switched to an introductory course in art history, where a future mentor, George Hamilton '32, '42PhD, gave him an A+. The English department kept its hold on him a little longer. But after the first day of graduate school at Yale, he dropped out to become a fighter pilot.
Scully entered the Army Air Corps in November, 1940, and flew a PT-17 Stearman biplane, "wonderful aircraft, open cockpit, white scarf." He laughs. "You know, Dawn Patrol. Errol Flynn. Who knows what all crap." Unfortunately, he couldn't fly ("I had no sense"), and he could not get past his flight instructor's southern accent ("He'd tell me to do this and I'd do something else"). There were two runways and, coming in to land after a check ride once, Scully headed for the wrong one. "He went, 'Naaaggh! You want to go to the other one.' So, I had been told by a Navy pilot how to sideslip. You weren't allowed to do that in the Army. Cross-control. And I did. I slipped perfectly into the other lane and landed it. Instead of being pleased with me, he was terrified. He thought, 'God, I'm going to die.'" Scully washed out.
He became a Marine instead and served during World War II in both the Pacific and Mediterranean, rising to the rank of major. But it is the one thing in his life he will not discuss. Asked about seeing action, Scully says, "Saw some. The war was such a complicated thing for me, and very painful to remember. I don't mean to give the impression that such terrible things happened to me. It's not like that. It's just all painful. You don't mind?"
He came back to Yale afterward feeling that architecture and art were solid, living things. "I was ready. Soaked it up. Ah, god, I loved it! I never enjoyed anything as much as graduate school, and everybody used to tell me how awful graduate school was." George Hamilton urged him to do his thesis on the Hudson River painters. But Scully had already begun teaching architecture to undergraduates in 1947, and a photograph of McKim, Mead, and White's Low House captured his imagination instead. It led him to Newport, Rhode Island, where he identified two distinctively American styles of domestic architecture. Scully's terms for them, the "stick style" and the "shingle style," instantly became a part of the architectural vocabulary, "invested with meaning," in the words of one scholarly article, "by his compelling arguments and extraordinary powers of description." He earned his doctorate in three-and-a-half years, joined the art history faculty at Yale, and quickly published two prize-winning books out of his Newport research.
Scully had married during the war, to an art history major from Wellesley named Nancy Keith, and they soon had three sons. They decided to build a home outside New Haven. Scully went to Frank Lloyd Wright for the plan. He was caught up, at the time, in the heroic idea of the modernist architect driven by his artistic vision, and Wright seemed like the most heroic of them all. But Scully being Scully, he also noted borrowings in some of Wright's early designs.
"I asked him what he thought about Bruce Price -- didn't he like that work he'd done at Tuxedo Park? He looked at me. He knew exactly what I was talking about. He said, 'Son, architecture began when I began building houses out there on the prairie.'" Scully cackles softly at the memory. "What a confidence man, what a crook! He was great, really." In the end, Wright's plan proved too expensive for a junior faculty member to build. Scully paid the fee, and then designed his own glass-walled house in the woods.
At the same time that he was championing modernist architecture, Scully immersed himself in ancient Greece. He likens himself now to anthropologists who "go all over the world to many different times and places. They're after behavioral patterns. So am I." Going to Greece, he says, "was the great opening for me, when I had my religious experience with Greek temples. I saw the sacred landscape, the sacred buildings. I saw the relationship between the two. It changed my life."
Scully's book The Earth, the Temple, and the Gods argued that the Greeks had conceived and planned their temples in relation to landscapes reflecting the characteristics of specific gods. One critic praised it as the "most distinguished book of its kind" since Ruskin's Stones of Venice and marveled that "it has taken two centuries of staring at ruins and rummaging amongst fallen stones for an architectural historian to raise his eyes at last to the horizon and see the Greek temple in its totality . . . an inseparable whole, whereby earth, temple, and god are but one." But classicists cold-shouldered the interloper. One complained about a lack of written evidence and argued that it would have been hard to site a temple in the Mediterranean without some connection to the ubiquitous conical mounds and cleft mountains.
Back at Yale, Scully's relationship with the art history department was sometimes combative. "I don't know how much love there was, but there was plenty of hate," he recalls. The department when he joined it "was like a South American army. They were all generals except me. I was the only private." Many of them had come from privileged backgrounds and pursued traditional scholarly specialties. Scully, the abrasive newcomer, the townie, seemed to be ranging across the entire world, particularly when another of his books, Modern Architecture: The Architecture of Democracy, became a standard text in the field. His viewpoint was "so synoptic, so well read, bringing together so many diverse strains, with such a keen eye," says his student and longtime friend Robert A. M. Stern '65MArch, now dean of the Yale School of Architecture, that very few people could live up to it. Worse, Scully always got applauded when he took his turn team-teaching the introductory history of art course. His colleagues generally didn't. ("And, I mean, that's bad stuff," Scully says.)
Then in the early 1960s, Scully's marriage came to an abrupt end, and the bitter divorce disrupted not just the two families involved, but also the art history department. Scully's wife had been well liked within the department, one survivor of the era recalls, and people didn't understand why he "got involved with this other person." They particularly didn't understand because the "other person" was the wife of a junior faculty member in art history. Some of Scully's colleagues shunned the couple because they were "living in sin," in the parlance of the day. "The whole thing was terrible," Scully says now. "It was bad in every way." In 1965, Marian LaFollette Wohl would become his second wife; their daughter was born the next year. That marriage also broke up, in the 1970s.