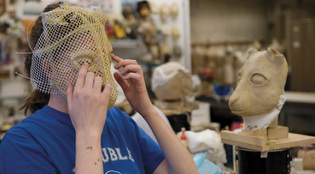 Julie Brown
Patricia Sorbi, a technical intern, tries on a mask-in-progress that she built on her clay sculpture of a jackalope (at right in photo). View full image
Hunter Nesbitt Spence was born in 1934 in Back Bay, Virginia, in the same room where his mother was born. He was the youngest of three children. His family raised soybeans, corn, hogs, sheep, and cows on 127 acres. They had a piano -- his mother gave lessons -- but no plumbing. Hunter milked two cows every morning before school. Now and then the family would drive their black Plymouth 18 miles to Virginia Beach to see a movie.
"I became a theater person as soon as I could say 'Good morning, how are you?'" Spence says. He sang in church pageants and acted in productions at his all-white high school, including blackface minstrel shows -- not yet taboo in Princess Anne County of the early 1950s.
At 14, he lied about his age to enroll in a mail-order taxidermy course for correspondents 16 and older, and he started a little business mounting fish and fowl for sportsmen visiting Virginia. He taught himself to use oils and began painting ducks on burlap: he could churn out three waterfowl scenes in a day, frame them in worm chestnut, and sell them for $25 each at Monk's Place, the local tavern. ("My wildlife period," he says.) The 21 members of the Creed School Class of 1956 voted Hunter "most likely to succeed," "best leader," and "most conceited."
In college, at Virginia's Old Dominion (then a branch of William and Mary), Spence floundered, then flunked out. Reading has never been easy for him, and in college "concentrating and studying was hell." He took various jobs, served five years in the Navy, and spent a winter in Thailand through an exchange program for farm youth. He didn't absorb much knowledge of Thai culture, he says, because "I was busy learning about Hunter." The most important lesson was humility: "If you can be small, you can learn more." Another of his realizations in Thailand, at age 29: "Hunter, you've got to get a degree in something."
He earned a degree in theater at Richmond Professional Institute (now Virginia Commonwealth). Then, seriously violating family norms, he crossed the Mason-Dixon line to work as an assistant technical director and set designer at Princeton's McCarter Theatre. There he met a Yale grad who encouraged him to take the train up to New Haven. Spence arrived on May 28, 1970, to work as a carpenter for the Yale Rep, and he stayed.
The Rep created the post of properties master for Spence a year later, and he married a college girlfriend. "I was from an agrarian background, and she was from an affluent background. I should have known there would be trouble in River City." (The Music Man.) Nine months later, their son was born. On hearing they had a boy, Spence says, his first thought was: "I think every man should have a son." (Stop the World -- I Want to Get Off.)
The marriage broke up when Charles Haywood Spence was seven. Spence raised him, with the help of, more or less, the entire drama school. "It's very inclusive down there," says a friend who watched Charlie grow up. "You can bring your grandmother and your child there. They're going to say, 'Maybe we can use the kid as a prop.'" Charlie was allowed to watch only public television, news, and sports. Spence knew the regimen had paid off the day his son said, "By the way, Dad, they're doing Tosca on TV. Want to watch it with me?" Charlie, now 35 and married, graduated from Syracuse and works as a dispatcher for a Maryland trucking company.
Spence lives just north of New Haven, in Hamden. Among his possessions are two white seagulls. One is stuffed and mounted, the other floppy, as if it had just been shot. The gulls are made of duck feathers and millinery feathers and are frequently borrowed for productions of the Chekhov play The Seagull, in venues from New York City to Rio. "They've been in more shows than you've probably ever seen. Often the dead one gets stolen, so I have to make another one," he says. "Who wants a dead seagull?"
Spence has created fake driftwood and a bull's head for the choreographer Martha Clarke. He wove the picnic basket that was strapped to the back of the $2 million flying car in the 2005 Broadway production of Chitty Chitty Bang Bang. His props for Yale include 35 stuffed dogs for Walk the Dog, Willy and -- for Edward Bond's Lear -- an eyeball-extracting machine. He takes particular pride in the latex male organ he made for Sam Shepard's Curse of the Starving Class. When he lent it to a theater company in Ohio, he stipulated that the program list this credit: "Penis erected by Hunter Nesbitt Spence."
It's mid-November at the Eli Whitney Museum in Hamden, and Spence is not satisfied with the miniature landscape he's constructing. He explains the problem to the high school student helping him: the tiny stone fence should be sunlit. A touch of white on each pebble might work. Spence watches as the young woman chooses a slender brush and begins to paint the pebbles one by one.
The stone wall is part of an electric-train exhibit the museum displays at Christmastime. Spence has been directing this show for the past seven years. He uses goldenrod flowers, dried and dipped in wood hardener, for evergreen trees. He gathers sticks for fence rails and fallen timber, aging the wood in amber shellac and denatured alcohol. For soil, he saves sawdust from the drama school scene shop and dyes it shades of gray, brown, and oxide green.
Every fall, museum director Bill Brown chooses a few high school students to help Spence. "We have kids who look forward the whole year to being included on the crew, to have the privilege to do his bidding, to work with a master artisan," says Brown. "In the year 1900, 60 percent of 14-year-olds went into apprenticeships. But you don't get that anymore. You don't get the quiet time working away beside someone who can do what you'll be able to do years from now."
Spence, he says, "has a gift for getting kids to slow down and focus. He is a take-what-you're-doing-seriously kind of person. Not everyone has the talent to be able to do what he needs them to do. He sees color and detail that some of us won't ever see. We save him for kids who are very talented, for whom he will be the first artist-teacher they ever have. And trust me: they never forget him."
When Zalite first joined Spence's class, she showed him a wolf mask she'd made for a solstice festival back home in Latvia, where she is a theater director. Spence's assessment: "You have a lot to learn."
Zalite was elated. She says she wrote to her colleagues back home, "You have to know how blessed I am, because I have a teacher." A good mask isn't merely beautiful, she says. "There is a moment when, from 'thing,' the mask becomes alive. I saw the masks that Hunter created. They are alive."
In class, Spence tells his students, "Your standards are what make you who you are, or who you're going to be. Remember your standards." Mediocrity rules, so "if you want to be mediocre, you can go anywhere." He waits a beat, then adds: "But stick around."
Spence savors the fact that a teaching job at Yale is an unlikely berth for someone who grew up hauling water from a hand pump; who didn't begin college in earnest until 31; and who has lived through strokes, cancer, and cataracts. "People let me do the damnedest things," he says. "I can't balance my checkbook. I know nothing about cars. There's a lot of things I know nothing about, including birthing babies. I think if I have a skill, it's taking a kid and pushing and kicking them." He reflects. "My main object is to teach them to swear with a southern accent."