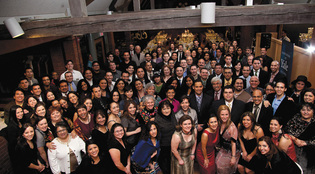 Tony Fiorini
Attendees at Yale's first-ever Latino Alumni Reunion pose at a Saturday night dinner. View full image
During his undergraduate days, says Orlando Rivera '77, he and some fellow Yalies planned to kidnap Yale president Kingman Brewster '41 -- to get him to listen to Puerto Rican students. Rivera, who remembers his student activism as "almost paramilitaristic," was only half-kidding.
For Yale's Latinos, times have changed. This year, both President Richard Levin '74PhD and Vice President and Secretary Linda Koch Lorimer '77JD appeared -- voluntarily -- to speak at Yale's first-ever official Latino Alumni Reunion. Levin and Lorimer opened the reunion's April 3 panel on Latino history at Yale.
Alumni panelists recalled their fight, as students, to increase Yale's support for Latinos. They traveled around the country each fall to recruit Latino students; they argued for cultural deanships and student centers from a reluctant Yale administration; and they united Puerto Ricans, Chicanos, and others to found, in 2000, a single Latino cultural center. These memories now spur both nostalgia and resolve: "What other trouble can we get into?" demanded Rivera. But the alumni said their goal today is largely to protect today's Latino students from the very struggle about which they now reminisce. Students in the 1970s, former assistant dean Melvyn Colon '77 said later, spent much of their energy "staking claims for greater representation in the school. And if there had been a more robust alumni presence at that time, then the alumni could have carried the burden of taking those claims to the university."
The April reunion -- including lectures, events with current students, and a stop at the local watering hole El Amigo Felix -- marked the culmination of a two-year effort to organize regional Latino alumni groups into one national network, now called the Yale Latino Alumni Association. "This event is really to drive people forward and get them energized," says Eve Rojas '94, a member of YLAA's interim board. YLAA aims to channel that energy into expanding its network, supporting current Latino students, and advocating increased diversity of Yale's faculty, students, and curriculum. Rojas summed it up: "What we want and have always wanted is a voice."
At the April 3 panel, Yale Latino voices spoke out loud and clear, both at the podium and in the audience. Howls of laughter throughout Rivera's speech: "This is the largest gathering of Latinos that I have seen in New Haven that did not involve mariachi music, demonstration posters, or brown power signs." Nostalgic applause for Carlos Moreno '70, who read out the inscription on the gavel he now uses in the California Supreme Court: "Carlos Moreno, MEChA Vice President, 1969/1970." (MEChA is Yale's Chicano student organization.) And hums of agreement when Colon expressed perhaps the most pervasive message of the panel: the determination "to make sure that the Latino students who follow us have a different experience than we had."