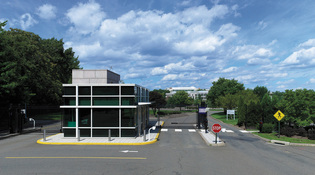 Christopher Gardner
Access to the campus is tightly controlled; visitors must pass through a security checkpoint before entering. View full image
Those who have set up shop on the West Campus so far are generally happy about it. But they have reservations. "There are days when I say 'God, it's lonely out here,' and other days when I say 'Thank God nobody's bothering me,'" says Howard Ochman, a researcher who came from Arizona with his wife, Nancy Moran (see "Redefining 'Viable'"), to found the Microbial Diversity Institute. "But I'd like to be able to go to a café for a cup of coffee. And I'd like to go out and get that cup of coffee with another scientist and see what he's doing. When there are 30 times the number of labs there are now, it'll be a lot better."
Ochman and others say the distance to the central campus—seven miles, a 15-minute drive, or 20-minute shuttle ride under optimum conditions on I-95—can be inconvenient. The faculty have to go to New Haven to teach and attend department meetings, and in some cases, storerooms and other necessary facilities are on central campus or at the medical school. Yale is improving the courier and shuttle services. But Donoghue acknowledges "a little bit of a glitchiness factor" in starting up a new and remote campus.
The few hardy souls who have gone West are adapting. They've started a "pioneer council," charged with inventing ways to build community. They hold brown-bag lunch discussions every Wednesday. They've arranged for weekly yoga classes. Yale is helping: starting this fall, the campus will have a fitness center and its first daily food service, a "grab-and-go" lunch spot. (Bayer left behind a full-service cafeteria, fully equipped down to the silverware, but it won't be viable until the campus population reaches 500.)
The university will spend a decade just filling up the existing West Campus buildings. But Yale is rapidly sketching ideas for the future. In another 20 years, you might be able to take a commuter train to keep an appointment with your Yale doctor at a West Campus clinic. Afterward, you could visit the new arts buildings on the west side of the site. You might even stroll through an orchard in bloom. If you were interested, you could visit the new quad and surrounding lab buildings, many of them also new, on the east side—a huge science complex, harboring up to three times the current lab space.
Four years ago, such an enormous physical expansion was nowhere in Yale's plans. But even the most cautious institution may rise to a target of opportunity. In a video on the West Campus website, President Levin compares the acquisition to another unanticipated westward expansion. "In some ways, you could liken the West Campus opportunity to the decision that Thomas Jefferson faced when confronted with the opportunity to buy Louisiana," he says. "Think about what would have happened if Jefferson had failed to buy Louisiana."