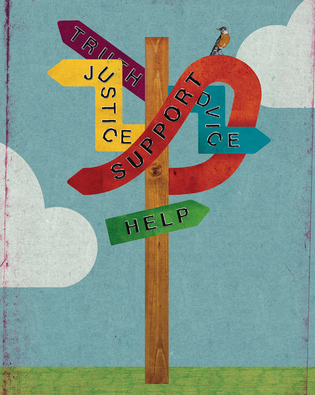 Barry Falls
As a self-proclaimed feminist who has taught New Haven high-schoolers about sex and consent and can rattle off the legal definition of rape as if it were the Pledge of Allegiance, Alison is clued into the dangers of today's sexual culture. A member of a Yale sorority and a self-described "social girl," she has a quick smile and an air of easy confidence. I am caught off guard, then, when 20 minutes into our conversation about sex at Yale, she mentions that she's been sexually assaulted.
Alison and I are talking about allegations that Yale has allowed the growth of a hostile environment for its female students. ("Alison" is a pseudonym.) The Department of Education's Office for Civil Rights, responding to a complaint submitted in March by 16 students and recent alumni, is currently investigating whether the university is complying with Title IX's mandate that it provide equal educational opportunities regardless of gender.
"The reason why I was willing to talk to you is that I can understand why people would be against the complaint if no evidence is presented," Alison says. "I think the Title IX complaint will be productive because, if nothing else, it's made girls feel like they're not the only ones."
Two years ago, when Alison was a sophomore, she danced and made out with an acquaintance at a fraternity party. Though she told him that she didn't want to go home with him, she let him walk her back to her dorm. "I'm not sure why I let him upstairs," she remembers, "but I think I didn't want to be rude." They talked for a bit, but when she tried to open the door for him to go, he grabbed her and started kissing her. Alison remembers pushing him off and saying "No," but he grabbed her again. She ducked under his arm and ran to the bathroom, where she waited for him to leave. "Nothing besides making out happened," Alison says. "I just remember being terrified by the violence that he was willing to use."
The next day, going over alcohol-muddled memories of what had happened, she worried that she hadn't resisted enough. When her roommate said she'd heard Alison yelling the night before, Alison was strangely relieved.
She didn't think of calling the SHARE Center, Yale's first resource for sexual assault victims, viewing it as "one of the hotlines for people who were struggling psychologically." Her sorority didn't offer any guidance; in fact, Alison hadn't wanted to tell her friends, much less the administration.
"I felt really unsure about whether I was in the right or wrong, and I didn't realize that I could talk to someone without committing to pressing disciplinary charges," she says. "I think I dismissed any possibility of reporting it at that point because I had this image of the process as this really public thing. I didn't think it was a 'big enough deal' to bother the administration with."
Since Alison—like most victims on college campuses—didn't report her assault, Yale never found out about it. The drinking that precipitated it happened off campus, facilitated by an unregistered student organization. Yale has the SHARE Center, an active Women's Center, accessible masters and deans in each residential college, and multiple avenues to resolve complaints of sexual misconduct. What more could the university have done to prevent Alison's experience or to guide her through it?
In conversations with a wide range of students about Yale's sexual misconduct policies, I found one clear common denominator: confusion. Whether they or a friend had been assaulted or harassed, whether they were active in women's issues or not, whether they were male or female, almost no one fully understood the multitude of options Yale offers victims of sexual harassment and assault.
Thanks to a string of high-profile incidents in recent years—including public misogynistic chanting by fraternity members and a mass e-mail rating the sexual attractiveness of incoming freshmen women—Yale has come under increased scrutiny on gender issues. In late May, the Department of Education cited Yale for underreporting sex offenses in 2001 and 2002 after an investigation sparked by a 2004 article in this magazine. Combined with the widespread confusion about Yale's policies, these episodes have created, for many students, the perception that Yale does not take sexual harassment and assault seriously. Hence Alison's decision to stay silent about her assault, and the Title IX complainants' decision to speak out.