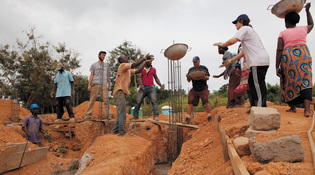 Jane Hahn
Ghanaian and Yale volunteers collaborate on pouring the concrete foundation for a future library and technology center. View full image
Mornings and evenings, the buses from the resort to Yamoransa and back squeeze through the narrow, trash-strewn streets of the village of Elmina, past an estuary filled with slim wooden fishing boats flying hundreds of colorful flags. We entertain ourselves by reading the names of commercial enterprises: the Triad College of Theology and Computer Training; The Lord is my Shepperd Fashion; a booth labeled No One is Perfect Except the Lord, which apparently sells lottery tickets.
Twice daily, we also pass the towering whitewashed castle on Elmina beach, a nexus for the slave trade. On our second orientation day, we toured Elmina Castle and Cape Coast Castle, another slave trade center. The guide told us that three million captured Africans had passed through the castle's "door of no return" on their way to the slave ships. When Ghanaian AFS volunteer Roger Anim Ofosu visited the door with us, he said, "I'm sure I have relatives abroad and I don't even know." Volunteer Andrew Burgie '87, as an African American, expected to feel only distress at the castle. But he found it unexpectedly affirming. "If the point 'of no return' were really successful," he says, "I wouldn't have seen it." Burgie, an industrial hygienist at Hunter College, says that to return here—and with teaching skills to offer—"is a nice circle of completion."
For Monika Advocate '87MA, who teaches international business, entering the castle was less upsetting than the view from the castle. "You look at this abject poverty around this castle, right now, and this is the country that is allegedly [among those doing] the best in Africa. Why is this country so rich in natural resources, including open land for agriculture, and is just so unbelievably poor?"
Those are questions worth asking, says Daniel Magaziner, an assistant professor of history at Yale who specializes in twentieth-century Africa. "Objectively, offering people a medical clinic is a good thing. The question is, do people ask why they don't have a medical clinic the other 360 days a year?" In the 1980s, says Magaziner, the World Bank and the International Monetary Fund required Ghana and many other African countries to embrace free trade, deregulation, and privatization at the expense of state power. As a result, "a lot of things states would provide are no longer provided." He believes the trip is valuable, but fears it could reinforce "stereotypes about African need and American power, without critically examining the relationships between these things."
Manhattan paralegal Kate Uehlinger would have liked more examination. As a group, she says, "we're not really discussing the reality of the situation—how impoverished they are," she says. Riding the bus through Elmina, she has seen little girls picking through a roadside garbage dump. Uehlinger calls the poverty "a huge shock."
Dollhopf notes that the group spent their first two days in Ghana learning about the country. "We're working hard to prove that we are not voluntourists," he says. "That being said, there are issues that are far too complex for us to address in a week's time, and we're very aware of that." It is important, he says, to strike the right balance between learning and service.
Fifteen-year-old Madeline Frank has made sense of what she's seen, in this way: "I realize people are people no matter where they live. These people happened to be born here and I happened to be born in America. It's all luck."
By week's end, it seems as if our project may have lasting effects. The bakers, seamstresses, kenkey sellers, small traders, and hairdressers have all set up trade associations; they have elected officers, collected dues, and opened bank accounts. Representatives of the bakers' assocation—which has 44 members in all—have traveled two hours to the big flour mill in the city of Takoradi and negotiated an 8 percent discount for large orders. The dressmakers are arranging with the Coconut Grove resort to seek sewing orders from hotel guests. One of the dressmakers, 30-year-old Elizabeth Forley, has learned she needs to make a banner advertising her business, to hang at the crossroads in Elmina, and she needs to start keeping records. "I have to know my income and expenses and the time that I use for sewing," she says. "I've learned a lot."
On Friday night at dinner, Dollhopf announces that the trip has gone so well that the Yale Alumni Service Corps will definitely return to Yamoransa next summer. Applause fills the dining gazebo.
On the Saturday morning after our work week, en route to a closing ceremony, the buses halt short of the Yamoransa plaza, blocked by a parade. It turns out that the show is for us. Three Fante chiefs are swaying above the marchers, reclining in palanquins, each one carried by four men with sweat coursing down their faces. Young girls are dancing their way forward to the drumbeats. At the plaza, hundreds of local people, and crews from three television stations, join us for more drumming and for speeches. The chief with whom we had the most contact, Nana Akwa II, announces that Dollhopf and Kathy Edersheim '87, codirector of the trip, have been made honorary elders of Yamoransa. "We know we have honored only two out of the lot," Nana Akwa tells the crowd. "But the symbolism is that, as a group, you are part of this community." Afterwards, he tells me that seeing the volunteers work has motivated local people to be more active. "The spirit of communal labor is now enkindled," he says.
His comment seems to confirm what a Ghanaian acquaintance at Yale told me before we left. "The visibility that you're going to have in Yamoransa is really going to catalyze the community," despite being there for only nine days in all, said Elijah Paintsil, an assistant professor of pediatrics at the Yale School of Medicine. Our most important contribution, he said, would be intangible: to convey that people in Yamoransa matter, including to the outside world.
After they're back home, members of the business team get in touch with several Coca-Cola employees in Ghana who have been assigned to keep guiding the women's trade associations. Nurses who were on the trip are hoping to arrange an exchange that would send Yale nursing faculty to the nursing school at the University of Cape Coast, near Yamoransa, and host Ghanaian nursing students at Yale.
Bob Unsworth '86MFS, who led the construction team with Gordon Stanton '82, is one of several alumni who have begun networking with potential donors in the United States and Ghana in hopes they will chip in for materials and computers. "We'll pull every string we can," says Unsworth, an economist. He's confident that Yamoransa will have a completed library and technology center. "Everybody worries it won't be finished," says Unsworth. "But this isn't a group that takes no for an answer."
After a month back home in California, Darcy Troy Pollack '87 remembers the trip as exhausting. "It was not a vacation. It was a life experience," says Troy Pollack, a member of the AYA board of governors. "In the middle of the trip, if you'd asked me, would I go back, I'd say no way." Now, she says, she's already planning what kind of protein bars to pack for next summer.