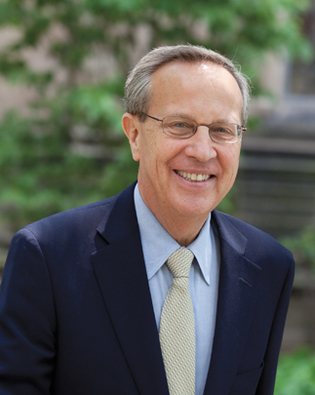 Y: You made the decision to step down on your vacation at Mont Blanc in August. How did you feel about it?
L: I felt that it was the right decision for the right reasons. I came to realize that the next round of initiatives at Yale would need a sustained effort to bring to completion, as well as a significant multiyear fund-raising campaign. So it did not make sense to stay for just two or three more years. It seemed better to let a new president begin the next phase of Yale's constant improvement and evolution.
Y: Is there any unfinished business you regret?
L: The biggest disappointment has been not being able to make more progress on the comprehensive renovation of Science Hill. The financial crisis caused us to postpone our plan to begin construction of the new biology building in January 2009. This was the next step in our master plan that includes the renovation of all the remaining buildings on Science Hill. This progress is critical to make Yale stronger in science, and I regret that we have had to delay this important work.
Having completed an unbelievably successful program of renovation and construction of the arts facilities, I also wish we had been able to create a new home for the School of Drama, which it deserves. Finally, we had to put the new residential colleges on hold, even as we turn away every year an increasing number of highly qualified applicants. Educating 200 more students a year would significantly expand Yale's contribution to the world.
There are also many very exciting programmatic initiatives that are under way: the build-out of the West Campus, the further development of the Jackson Institute for Global Affairs, and the opening of the new Yale-NUS College, among others. But these initiatives are well launched and on the way to great success. They are the ongoing work of the university. And, as I often say, drawing on the wisdom of Rabbi Tarfon: "we cannot complete the work, but neither are we free to desist from it."
Y: What are your plans for the remainder of your time here?
L: I will keep many initiatives moving forward. And a major focus for the year will be to reach out to 100 to 150 of our most loyal supporters to ask them to endow professorships and financial aid, as well as to provide the next president with unrestricted funds that can be used for investment to improve our programs and facilities. The Alumni Fund will also give everyone an opportunity to participate in this special, one-year fund-raising initiative.
Y: Of all the people you've worked with, are there any particularly memorable characters?
L: So many. This is such a wonderful place, with so many immensely talented people, people with extraordinary skills and personalities. If I had to identify only two, one would be [former Yale College dean] Dick Brodhead ['68, '72PhD]. He is such a brilliant, witty, and articulate speaker; it was always a treat to listen to him—and terrifying to have to follow him, every fall, at the Freshman Assembly.
Another colleague whom I would single out for his extraordinary integrity and sense of service is John Pepper ['60]. He was CEO of a great corporation, Procter and Gamble, and he was the Senior Fellow of the Yale Corporation. I was amazed—and delighted—that a person of such stature and accomplishment would respond to my request that he come to work at Yale as a vice president for finance and administration. It was a privilege for me, and all the officers, to work with John. We learned so much.
Y: What would you say was your biggest mistake?
L: When I failed in my first year to give proper attention to the $20 million gift from Lee Bass ['79] for study of Western civilization. I didn't focus on getting that program properly under way, so that the donor became frustrated and in the end we had to return the gift. That was a costly error in terms of the loss to Yale and also the loss of goodwill in certain segments of the community. But the study of Western civilization, thanks to our fabulous humanities faculty, is flourishing at Yale. Directed Studies is the strongest program of its type in the nation.
Y: What were your worst moments?
L: Without any question, the tragedies that took the lives of some of our students. Those were the very worst.
Y: Your proudest moments?
L: The honest truth is that my proudest moments these last 20 years have been taking pleasure in my family: the birth of seven grandchildren, the achievements of each of our four children, and Jane's winning the Yale College prize for excellence in teaching. [Jane Levin '75PhD, Levin's wife, is director of undergraduate studies for the freshman Directed Studies program in Western civilization.]
Y: And what were your proudest moments for the university?
L: The Tercentennial [in 2001] was a glorious thing—the celebratory events and all of the preparation and planning that went into them. [Vice president] Linda Lorimer's team put together an extraordinary series of events to honor the glories of Yale. We used the Tercentennial as a platform to underscore the importance of internationalization of the university in the century ahead. And having Paul Simon sing in the Yale Bowl was fabulous!
Y: Did you have any difficult times that changed your focus or your strategy for a particular issue?
L: My first set of labor negotiations, in 1995–96, was challenging. I proposed to the union leaders that we should start over on the relationship—to start with a clean slate, to try to understand each other's interests better. There was too much distrust at that time for that message to be heard. Then in '02, I tried again, but the negotiations went on for 20 months without a contract. Finally, through that adversity, the message got through, and by the end of that long negotiation, the unions agreed that we needed to build the foundations of a different kind of relationship. That led to the commitment to have joint labor-management teams looking at practices around the university and discovering how we could improve. As a consequence, the last two negotiations have been completely different in both tone and substance. By the time the current contract expires, we will have had nearly 14 years of successful collaboration without a work stoppage.
Y: What will you look back on with nostalgia?
L: There are so many things. So many. I will miss working closely with an amazing group of people. It is exciting to focus the mental resources of very talented people on both tough problems and new opportunities. And to make so much progress on so many fronts has been deeply rewarding.
I will especially miss working with the group of extraordinary leaders who have been with me the whole time I have been president, or almost the whole time: Linda Lorimer ['77JD], Dorothy Robinson, Bruce Alexander ['65], Dave Swensen ['80PhD], Tom Beckett, Robert Blocker. And the incredible supporting cast in my office and the President's House, especially Regina Starolis, Nina Glickson ['73], Penny Laurans, and Pat Chase. [The Levins chose not to move into the official Yale president's residence on Hillhouse Avenue; it is used for receptions.]
And then there are other things I will miss, like commencement. Even after 19 times, I still get a rush standing up on that platform in front of 20,000 people, seeing all the proud families and graduates. It's just a beautiful spectacle. Looking out at all the diversity of those who nurtured these talented kids, an amazing spectacle of humanity—I find it thrilling.