We are all exiles. For María Rosa Menocal, that was fundamental. A renowned scholar of medieval Spain, long-time director of Yale's Whitney Humanities Center, and much adored friend and colleague, Menocal found harmony in discord and hope in darkness as she fought a three-year battle with melanoma. She died in October at 59.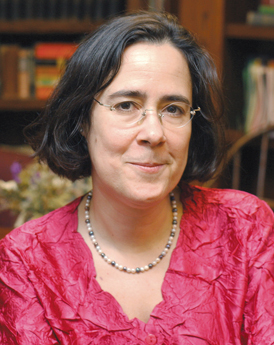 Michael Marsland
María Rosa Menocal, a Sterling Professor of Humanties, was head of the Whitney Humanities Center, where she encouraged all kinds of intellectual conversations. View full image
In 1960, seven-year-old María Rosa fled Havana, Cuba, with her parents in the aftermath of the communist revolution. The experience would prove formative; she would dedicate her academic career to studying how exiles establish new homes despite the odds. In her 2002 book, The Ornament of the World, the Sterling Professor of Humanities explored how Christians, Muslims, and Jews in medieval Spain set aside religious differences to create one of the richest cultures in Europe. The book challenged the sentiment, in vogue in the United States after September 11, 2001, that Islam is antithetical to the West. An earlier book, Shards of Love (1994), had examined the role of exiles in the origins of lyric poetry—including works written by Arab Sufi mystics, Sephardic Jews, Dante, and Eric Clapton.
Menocal was head of the Whitney for more than a decade. Her goal was to foster as much intellectual conversation as possible. She founded a film series and a humanities lecture series. She created new fellowship categories and, in all, appointed 285 fellows. But many remember how she created a home for debate, even for strangers to the humanities. "The Whitney… becomes the university's center for conversations across the arts and sciences," she once said. Acclaimed author Anne Fadiman, who became a fellow in 2005, said Menocal made the Whitney into "a magical cross between Plato's Academy and Madame de Staël's salon."
Menocal is survived by her husband, R. Crosby Kemper '74, her parents, former husband George Calhoun, their two children, and one grandchild.