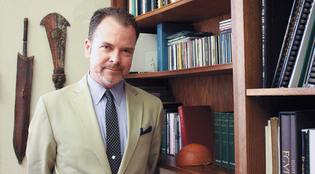 Baobao Zhang/Yale Daily News
In what may be an unprecedented move, Yale has publicly suspended a senior faculty member who had an affair with a student under his supervision. The professor, John Darnell, has also resigned as chair of the Department of Near Eastern Languages and Civilizations (NELC) and stepped aside as director of the Yale Egyptological Institute.
Yale officials are saying little about the situation. But the one-year unpaid suspension, which Darnell announced in a January 8 e-mail to colleagues, is a rare public crackdown on sexual misconduct—Yale's handling of which has come under scrutiny in recent years by students, alumni, and the government. (See "Federal Government Ends Title IX Investigation," July/August.) Two senior NELC professors say they have never seen any faculty member suspended in 40-plus years at Yale.
In his e-mail to department members, Darnell acknowledged several violations of Yale policy: "maintaining an intimate relationship with a Yale student, who was under my direct supervision"; "participating in the review of a faculty member with whom I had an intimate relationship"; and using his "leadership role… in an effort to ensure that these policy violations would not come to light."
Darnell, who could not be reached for comment, did not name the person involved, and Yale officials will not comment. Anonymous sources told the Yale Daily News that the student was Colleen Manassa '01, '05PhD, now associate professor of Egyptology. Manassa is not known to be accused of violating any Yale rules. Reached by phone, she says: "I really have no comment on this matter."
Last year, Darnell filed for divorce from his wife, Deborah, a NELC employee and frequent collaborator at the Yale Egyptological Institute. In a publicly available legal response, Deborah Darnell asserts that her husband began an affair with Manassa in 2000. At that time, Manassa was a NELC undergraduate; she went on to get her doctorate under John Darnell's supervision. The department hired her as an assistant professor in 2006 and promoted her to associate in 2010. On his divorce filing, John Darnell listed as his address a house Manassa purchased in 2011, according to online town land records. Deborah Darnell could not be reached for comment.
Knowledge or suspicion of the relationship was widespread within the department, current and former faculty members say. Benjamin Foster '75PhD, a professor of Assyriology and former department chair, declines to name Darnell's romantic partner but confirms that "the basic situation has been known for a very long time," because "Yale's a village."
Asked how the department allowed Darnell to participate in employment decisions about someone with whom he was having an affair, Foster calls it "an interesting aspect of this situation" and adds: "I really don't see any basis for impugning anybody's past appointment." Yale officials decline to comment.
Yale bars faculty from sexual relationships with any undergraduates, or with graduate students under their supervision, citing "unequal institutional power" and risks to "the integrity of the educational process." Last June, Yale signed an agreement with the US education department's civil rights office, settling a Title IX sex-discrimination complaint in which students and alumni accused the university of failing to vigorously investigate and punish sexual misconduct. Without admitting wrongdoing, Yale commissioned a study by prominent alumni; hired one of its authors into a new position overseeing campus life; revamped systems for handling sex-misconduct complaints; and began publishing semiannual reports on those complaints and their resolutions. The July 2012 report noted an apparently unrelated case in which a faculty member agreed to a two-year unpaid suspension for a similar violation of the consensual relations policy.