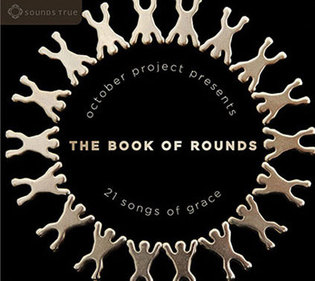 The Book of Rounds: 21 Songs of Grace
October Project
Sounds True, $15.98
Reviewed by Christopher Arnott

Christopher Arnott has been covering the arts in Connecticut for more than 30 years.

Spiritual song cycles today tend to be solo works, written and performed by singers of the breathy, withdrawn, indie variety. The Book of Rounds is different. Released this past fall as both a CD/download and a 55-page score for vocal groups of ten or more, it has grandeur, exuberance, and a sweet communality. The lush majesty of the hour-long presentation—intricately harmonized rounds for male and female voices, with simple titles such as "Beauty," "Believe," and "Know"—is the work of the seasoned popsmiths of October Project.

The band had its roots in undergraduate collaborations between Morse College roommates Marina Belica '81 and Julie Flanders '81, who were later joined by Rutgers grad Emil Adler. The new recording features vocalists Belica and Flanders, augmented by past and present members of the Yale singing groups Redhot and Blue, the Whiffenpoofs, and Spizzwinks. With a few African- and classical-style arrangements, as well as several pieces in traditional collegiate vocal-group form, The Book of Rounds has a different spiritual appeal from the band's usual work: less like a pagan ceremony in the woods, more like Godspell. October Project considers these rounds "modern mantras"—musical meditation for performers and audiences. The Book of Rounds rebrands the round in the same cheery communal spirit that you feel at Yale a cappella concerts: bright, attentive to all voices, using the ensemble to lift the music to a higher spiritual plane.