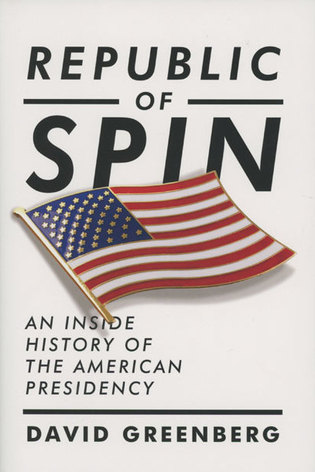 Republic of Spin: An Inside History of the American Presidency
David Greenberg '90
W. W. Norton & Co., $35
Reviewed by Alex Beam '75
Alex Beam '75 is a Boston Globe columnist. His book The Feud: Vladimir Nabokov, Edmund Wilson, and the Bitter End of a Beautiful Friendship will appear in December.

Americans can be forgiven for feeling spun out. We have suffered through Bill O'Reilly's No Spin Zone, the rock and roll band Spin Doctors, and even Spin City. Here is historian David Greenberg's core message: if you think the [insert name of your least-favorite recent president] administration was bad—let me tell you about Theodore Roosevelt.
It is true, and one of the many fascinating revelations of this smoothly written book, that the Bush-Clinton-Obama regimes had nothing on old TR. Teddy, after all, was the man who signed a book deal covering his heroics in the Spanish-American War before he embarked for Cuba. Roosevelt posted this sign outside the Rough Riders' Texas campground: "All Civilians, Except Reporters, Prohibited from Camp." It comes as no surprise that TR appointed "the first dedicated government public relations officer" in US history. And so the floodgates opened. Some presidents fell short on the spin front—the austere Woodrow Wilson, for instance—and some overachieved. Interestingly, it was not Franklin Roosevelt but Calvin Coolidge who pioneered the use of radio as a presidential communications medium.
Greenberg knows what we know and what we don't. We know about Nixon's media obsession, and we are living in Obama's "spin of no spin" presidency, so he spends more time deepening our understanding of the more distant past. Who knew that Dwight Eisenhower won an honorary Emmy award for his Oval Office broadcasts?
I didn't know, which made reading this book a series of epiphanies. Republic of Spin is alternately fascinating, horrifying, and thought provoking—but almost never dull.