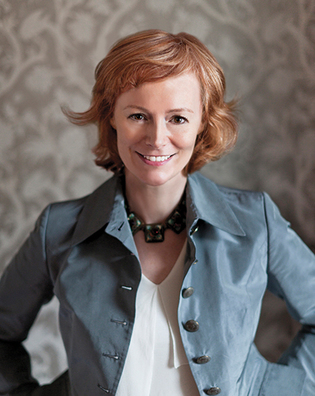 Bryan Derballa
Mary Bly '95PhD is better known to her legions of fans as Eloisa James, the bestselling author of 24 historical romances. Her titles include: Wilde in Love, Four Nights with the Duke, Desperate Duchesses, and Once Upon a Tower. View full image
Mary Bly '95PhD is a professor of English literature at New York's Fordham University. Author of a book published by Oxford. Very proper. But millions of readers around the world know her as Eloisa James, a queen of romance novels, writer of 24 bestsellers in 28 languages. A graduate of Harvard, Bly got an MPhil from Oxford before earning her Yale PhD in Renaissance studies. She also met her husband, Alessandro Vettori '95PhD, at Yale. (He's an Italian knight. For real.) They live in Manhattan and have two children.
Yale Alumni Magazine: You found your knight in shining armor at Yale.
Bly: We were set up on a blind date—the ancient art of matchmaking. All I remember is him at my front door saying, "Why don't I come in and rub your back?" He was so Italian—I couldn't get his name [right] till like the third date, so I avoided calling him anything because I knew I couldn't make it sound right. I grew up on a farm in Minnesota.
Y: Just a country girl, whose father was . . .
B: A major poet who won the National Book Award.
Y: Robert Bly. Author of Iron John. Didn't he deconstruct fairy tales and what it means to be a man?
B: The Iron John thing hit when I was at Yale. He actually paid me $100 to take out anything that women might not like. It wasn't anti-feminist, but it was all about men, and I did my best.
Y: I hope that people understood.
B: I remember one of my first parties at Yale. Someone said, "What's your name?" and I said, "Mary Bly," and she made a vomiting gesture and said, "I won't forget that, because of Robert Bly." It's one of those horrible moments, and afterward I was, "Why didn't I shame her? Why didn't I slap her?" I just walked away.
Y: Have you been shamed?
B: When I started out it was a very shameful thing.
Y: Romance writing, you mean? Why?
B: Romance has been associated with sex, with women's desire—it's written by women, for women. So there's the misogyny side, and then there's the American Puritan side. [People think] a woman's going to read it and get aroused and that's shameful.
Y: What made you become an author?
B: I started writing to pay off my student loans. I had $30,000 in debt, and my husband said, "We shouldn't have another baby [until we're out of debt]," so I had to pay it off. I tried writing a mystery first. I love genre fiction. But I couldn't get myself into the mind of a murderer without thinking of his childhood. "Oh, his mother must've been mean to him."
Y: Not quite Raymond Chandler. So you read up on romance novels and decided to write them instead?
B: I went home and analyzed them the way I'd been taught at Oxford and Yale.
Y: Vocational ed! So now who is reading your books?
B: Romance functions as escapism, and there are various times when everyone escapes. I sell a tremendous amount to women in the military. And I have a lot of readers who are going through chemo. Or some write and say, "My sister was dying. I read your book aloud and it made her laugh." And I get a lot of letters that say, "I read your books and I realize I don't have to put up with my relationship anymore."
Y: What inspires your plots?
B: I got an MPhil, in Drama till 1640, and I specialized in "boys' plays"—boys' [theater] companies, where they played all the parts. The boys' plays were much more sarcastic, very, very filthy, and way weirder than anything Shakespeare wrote. One of them was The Hog Hath Lost His Pearl. My first books drew on those plays.
Y: Wait a sec. Thanks to you, romance fans are reading updated versions of filthy English plays?
B: And lots of Renaissance poetry.