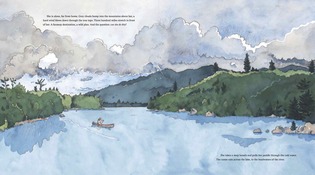 Cooper's 2019 book "River" is full of scenes from the Hudson, from the Adirondacks to the Atlantic. Publisher's Weekly gave the book a starred review and called it "beautifully rendered." View full image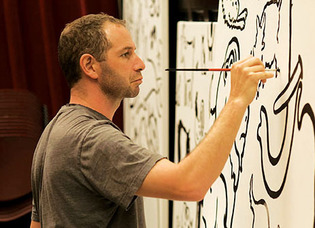 Christopher Smith
Back when he was at Yale, Elisha Cooper '93 had had to live with being the smallest player on the football team. But he found that art gave him "space to stand apart." It would lead him into a career. View full image
Evolution of an author
What appeared simple was not simple.

By Elisha Cooper '93

If you want to write children's books, grow up on a farm, then go to Yale and don't study. It worked for me.

My family's New England farm was full of cows, goats, and barn cats, a perfect rural studio for a child who loved to draw.

At Yale I kept drawing, maybe when I shouldn't have. I took classes where professors waved their arms around a lot, or had big beards, just so I could draw them. I loved to sit in a darkened lecture and sketch Jonathan Spence '65PhD, peering up from under bushy eyebrows as he shared stories of peasants overthrowing the Qing dynasty. But when it came to doing the actual work—writing papers, studying for exams, going to something called sections—I didn't. I hung out in the Trumbull dining hall, or went to football practice.

I was the smallest player on the Yale football team, the only one who drew caricatures of the coaches and taped them to the locker room walls. With teammates so much stronger and more confident than I was, art gave me space to stand apart—sort of like the spaces near the sideline I had to find as a receiver—where I could safely observe others.

After graduation, my teammates went into banking and I went into messengering. That I was a messenger at the New Yorker was due to the senior year nonfiction writing seminar I took with Fred Strebeigh '74. In a class of future journalists, I did the work (earning the only A I got at Yale), and did not draw the professor (Strebeigh's beard was short), and fell hard for the craft of writing.

The New Yorker was my grad school. I talked with aspiring writers in the messenger room, drew caricatures of editors on the walls (hmm, I sense a theme here), and delivered manuscripts around the city. I brought my sketchbook too, and drew New Yorkers on the subway or in cafés, and after that sketchbook was published as a book, a friend suggested I write a children's book.

"Why don't you write a children's book, Josh?" I didn't say, but remember thinking. While I loved children's books growing up, I thought of them as something I'd left behind. Maurice Sendak once said, and I'm paraphrasing him badly, "What even is a children's book?"

I think Sendak, in his grumpy ambivalence, was getting at the arbitrary distinctions society makes about literature. A hierarchy—novels at the top and children's books off in some scruffy field. I suppose I shared that bias (I'd heft a big book and think Ohh, impressive). Children's books were small and simple. But, in their combination of words and images, they were familiar to me. A sketch here, a sentence there. This was something I could do, I thought.

It also could be a way to see the world. I met my future wife at Yale while getting our ankles taped—she was an All-Ivy soccer player—then followed her around the country, from New York to California to Chicago and back to New York, her academic trajectory providing me with new subjects to draw.

As I began to write and paint children's books—about ballparks, beaches, trains—my attentiveness to the books of my fellow authors grew. What appeared simple was not simple. Whether it was the subtlety in Kevin Henkes's mice books, the intricate draftsmanship of Barbara McClintock, or the wry wordplay of Mo Willems. These books were devious, a little subversive. They came at subjects sideways, subjects that often were difficult. With deft pacing that could inspire a flash of understanding, even tears. Above all, the best children's books treated children with respect.

My growing admiration for children's books was matched with defensiveness. Around this time it seemed as if every celebrity was slumming in our field. As if they'd all casually mentioned they'd always wanted to be a heart surgeon, and then, the hospital let them. Because publishers were happy to publish celebrity books. They sold, and played to the lowest common denominator. Moral books, with big, obvious truths: Sharing is Good! I thought of these books as Should books. Should books were meant to be good for you, like gummy vitamins.

These didactic books were bad, but also clarifying. They showed me what I did not want to write, even as the best books pointed me toward what was possible, an aesthetic that has driven me in recent years as I've written books about the seasons on a realistic Midwestern farm, or the death of a family pet.

So I guess I was writing Should books, too. I was as moral as anyone, but trying to hide it. My latest book, River, has a sly agenda. On the surface it's about a woman's canoe trip down the Hudson, but not far beneath is my hope to create future environmental-ists. I wanted to paint the natural world so beautifully that only a fool could fail to want to protect it.

Which brings us to today. Children's book publishers are reckoning with racial inequities, both within the industry and in the voices they promote. The benefits I have received must expand to new voices, and new books, ones that can build on Kadir Nelson's luminous portraits of Black Americans in this year's Caldecott Medal–winning The Undefeated. While I wonder if in a year from now there will be a profusion of Should books (I'm not looking forward to the publication of Kitten & Mask Are Friends), I believe in the power of art to expand. A sketch here, a sentence there. New narratives that inspire the mind of a child, and in doing so, word by word, change the world.

Maybe the idea for a story will come to a Yale undergraduate late at night, when she should be studying, or to a young woman on a farm outside El Paso, Texas. And the work they create may not be high art, and it may not be serious (at least at first glance), but it will be honest and bracing and true. And it will be a children's book.

Elisha Cooper '93 is the author of many children's books, including Big Cat, Little Cat, which won a Caldecott Honor. His most recent book is River.