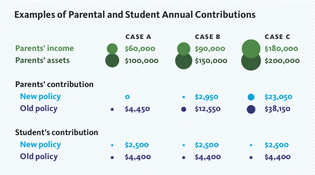 Chart: Mark Zurolo '01MFA. Source: Office of Public Affairs.
Responding in part to pressure from Congress and from its rivals, the university made two highly publicized announcements in January: first, that Yale would begin spending more money each year from its $22.5 billion endowment, and second, that it would increase its budget for undergraduate financial aid by more than 40 percent to make Yale College more affordable.
The change in the endowment spending policy will make an extra $300 million available in next year's university budget. The bigger payout is made possible by the extraordinary returns the endowment has achieved in recent years. The rate of spending was just 3.8 percent of the endowment's value last year. Under the new rule, spending will be kept between 4.5 percent and 6 percent of the endowment's value.
President Rick Levin said that some of the money would be used to pay for increased financial aid, for expanding research in the sciences, and possibly for the proposed expansion of Yale College. In the sciences, some of the money will help fund new research initiatives at the West Campus, a 136-acre research facility in West Haven Yale acquired from Bayer Pharmaceutical last year.
Levin says that the change was in part due to recent criticism and scrutiny by Senator Charles Grassley of Iowa, ranking Republican member of the Senate Finance Committee. Grassley has called on wealthy universities to use their endowments to make college more affordable, and his committee recently requested detailed financial information from the 136 American colleges and universities with large endowments. Grassley has suggested that Congress might require such schools to spend a minimum percentage of their endowments each year. "It just didn't seem right to be spending only 3.7 or 3.8 percent of the endowment," says Levin. "We recognized that [Grassley] had his finger on something that was indeed a problem."
"This is a great day for parents and students," Grassley said in a press release. "For the first time in years, we're hearing good news about tuition and affordability."
Although it amounts to only 8 percent of the new spending, the increase in undergraduate financial aid announced a week later got the most attention. The change in the aid policy had been in the works for months, but it was characterized in the media as a response to a similar announcement by Harvard in December. The new plan increases aid to most families earning less than $200,000 a year, eliminates the requirement that students take out loans, and reduces the student contribution from $4,400 to $2,500 per year. The university also said it plans to tie future tuition increases to the Consumer Price Index, and that it will have a financial-aid calculator available online by this summer to help prospective students estimate their family's expected contributions.
Under the new aid formula, families earning less than $60,000 per year will not be expected to make a contribution to their child's education, except for the $2,500 self-help requirement, which a student can earn with a seven-hour-a-week campus job or by taking out loans. While the formula varies depending on family assets and the number of children in college, families earning between $60,000 and $120,000 will be expected to contribute 1 to 10 percent of family income, and those earning between $120,000 and $200,000 will pay an average of 10 percent. About 43 percent of undergraduates received financial aid this academic year, and Yale estimates that another 5 percent of current students will be eligible under the new rules.