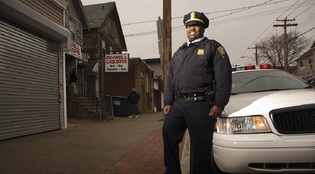 Julie Brown
Anthony Duff '88 patrols the streets of the Dixwell neighborhood adjacent to Yale. View full image
Anthony Duff '88 came to New Haven from Forrest City, Arkansas, to attend Yale. He stayed in town to manage two stores on Broadway, Cobden's and Boola Boola. Then, in 1996, he decided to join the city's police department, which was in the midst of a nationally recognized community-policing experiment. Today Lieutenant Duff, 42 -- who received a 2007 Elm-Ivy Award for promoting town-gown cooperation -- serves as the department's district manager for the Dixwell neighborhood, north of the Yale campus. New Haven Independent editor Paul Bass '82 went on a drive through the area with Duff in late 2007 and talked with him about his work.
Y: How do you describe community policing to people?
D: Community policing is taking policing out of one centralized location and giving a neighborhood or a community its own police force, to an extent. You then have your own little police department or agency within your community. It puts an emphasis on problem-solving and thinking long-term: thinking beyond just the notion that "here's a problem -- let me arrest this person and get rid of this problem." Community policing teaches us that we have to look at the big picture.
Y: How does community policing work better than racking up arrests?
D: Most people arrested are not given life sentences. Most people will return to society -- sometimes within days or hours. But if we can change the landscape -- if we get this guy involved in something other than selling drugs or breaking into cars -- that will go a longer way toward solving the problem and keeping it from reoccurring.
Y: So what would be an example of a case you've handled where instead of arresting someone, you dealt with the root cause?
D: That package store we just passed. 304 Dixwell. There was an ongoing long-term history of problems there: prostitution, drug dealing, loitering, public intoxication. A number of quality-of-life issues. I could go there and arrest people for trespassing or disorderly conduct if I found them on the sidewalk. I could do some surveillance and get enough information for a search-and-seizure warrant. I could go there and kick in the door, legally. I could build arrest statistics off of that one location.
Y: What do you do instead?
D: We did develop information that the downstairs basement was selling drugs. So the downstairs tenant was arrested. Once we had that arrest, we followed up with the building inspector. There were two apartments there. The city condemned the downstairs. It was an illegal downstairs apartment. We worked out an agreement with the upstairs neighbor and the owner to limit the number of people on the property. We've had occasions where in the warm weather we'll have an officer assigned there -- whenever he or she is out on a call to just park in front of 304 Dixwell. The idea is to somehow modify the behavior.
Y: How did you become a police officer?
D: At one point, by the time I was 30, I said, "Gee, I'd better look for another job and do something besides working on Broadway." One day on lunch break I was reading the paper and saw that the police department was hiring.
Y: What specifically about police work attracted you?
D: Law enforcement is a way of what I thought of doing for years anyway -- becoming a lawyer. It's not exactly law school, obviously. But it's dealing with the law. And I would still get to work with the public, which I enjoyed doing in retail all these years.
Y: Overall, when you think about when you came to New Haven and started settling here, is Dixwell a safer place than it was, or the same?
D: I'm saying safer. There are a number of factors, one of which would be the revitalization of this development here, Monterey Place [the former Elm Haven housing projects]. Also, there's community policing, block watches, individual residents, the Dixwell Plaza merchants association, and Yale police, certainly. There is a sense of people looking to invest in the neighborhood now, a sense of pride.
Y: What do you like best about your job?
D: No day is ever the same. Police work is challenging. You can have your day mapped out, and from the moment you start your day it often just takes a different turn, especially working at the patrol level or dealing with the public. A few years ago there was a shootout. I had an idea in my mind of what I wanted to do that day. And within 30 minutes of that day on my shift, my day and life were changed. But that is the nature.
Y: What happened?
D: We were fired upon by a gentleman with a shotgun. Without going into too many other specifics, we returned fire, and the individual was killed. I could have been killed that day. That exchange of gunfire reminded me that even on days when you think you have your day planned, it can take a turn to tragedy or some life-altering experience just in a matter of seconds. So I'm appreciative of the things I have in life.
Postscript: In January, we asked Duff for an update on how things were going at 304 Dixwell. He replied, "For the most part, we got a very good handle on the criminal aspect. Now it's quality-of-life enforcement -- not allowing loitering or drinking, or prostitution, obviously. It requires a police presence from time to time to maintain order."