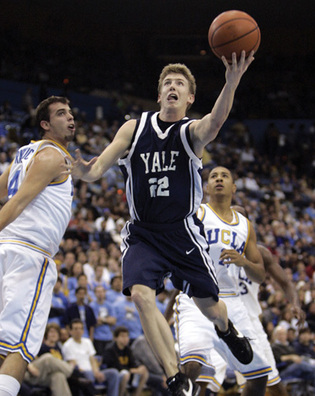 WG Sports
Yale captain Eric Flato '08 takes it to the hoop against top-ranked UCLA. View full image
On January 2 at Payne Whitney, Eric Flato '08 sank a three-pointer midway through the first half of a game against the University of Portland. A voice came over the arena's speakers to announce that Flato—the Bulldogs' point guard and captain—had just become a member of Yale basketball's elite 1,000-point club. "The students were on break, so the place was almost empty," says Flato, the 21st player in school history to amass 1,000 career points. "There were just a few people clapping—not exactly a rockin' atmosphere. But better to do it at home than somewhere else."
A native of Piedmont, California, Flato once was an all-state star for Piedmont High School, and he very nearly ended up calling another college campus home. He grew up 30 miles from Stanford, where he attended many basketball camps. His boyhood dream was to play for the Cardinal. But when decision time for college came, Flato found himself torn between staying in California—aside from Stanford, he also seriously considered UC–Santa Cruz and UC–Santa Clara—and heading east to New Haven. He was sold on the Bulldogs after Yale coach James Jones flew across the country to meet with Flato and his parents. "I was impressed at how enthusiastic and honest and straightforward [Jones] was about the program and where I would fit in it," says Flato. "He told me I wouldn't start my first year, but after that he would give me the ball."
Jones kept his word. Since his freshman season Flato has been the Bulldogs' dynamic floor general. Last year he was a unanimous All-Ivy League selection, after finishing in the league's top ten in six categories. A flashy ball-handler who is also a sharpshooter from beyond the three-point arc—his 71 three-pointers last season were one shy of Yale's single-season school record—Flato entered his final year as a frontrunner for Ivy League Player of the Year. "He's the heart of the team, both on and off the court," says Yale forward Ross Morin '09. "He's the first person in the gym taking shots, and he's the last person to leave. He's not scared to stand up and address the team in the locker room. He's even the guy who gets the team to get together when we're away from the gym."
This fall Yale played a grueling non-conference schedule that included trips to three ranked teams—UCLA, Kansas, and Stanford. The Bulldogs lost by double digits in all three games, but Flato says the experience toughened the team for Ivy League play. "After you see teams like that pressure you on the court for 40 minutes," he says, "you're ready for anything that any Ivy League team is going to throw at you."
Last year the Bulldogs entered the last weekend of the season still in the hunt for the Ivy League championship, but their title hopes were dashed after Penn trounced them that final weekend. After such a sour finish, Flato and the Bulldogs envisioned a different kind of ending to this season. (In mid-February, Yale was in the middle of the pack.) "Reaching something like a thousand points is nice," says Flato. "But winning an Ivy League championship? It just wouldn't even compare."
Sports shorts
Football season lasted a game longer than usual for senior and 2007 team captain Brandt Hollander. The All-Ivy and All-America nose guard was selected to play for the East team in the Hula Bowl All-Star Classic on January 12 in Honolulu. (The East beat the West, 38-7.) Two weeks later, next season's players elected linebacker Bobby Abare '09 to replace Hollander as captain in Yale's 136th season, which opens at home on September 20 against Georgetown.
The men's and women's fencing teams have enjoyed moderate success this winter, but four fencers won individual All-Ivy honors. Epéeists Rebecca Moss '10 and Michael Pierce '09 were named to the First Team, as was foilist John Gurrieri '10. Second Team honors went to foilist Lydia Gocheva '10.
The men's basketball team trounced Dartmouth, 97-58, on February 9 -- its highest Ivy point total since 1991. One of the game's highlights was not recorded in the stat sheet: with 4:15 left in the second half, junior Chris Andrews entered to a standing ovation. Andrews, a highly touted prospect in high school, had not played since his freshman year due to severe knee injuries.
Lisa Brummel '81 had starred in softball and basketball at Yale: her .565 field goal percentage, set during the 1979-80 season, is still a school record. Ginny Gilder '79 had won a silver medal in crew at the Olympics. In January, the two women, now successful executives, joined forces with two other women to purchase the WNBA's Seattle Storm for $10 million. The new owners had all been season-ticket holders.