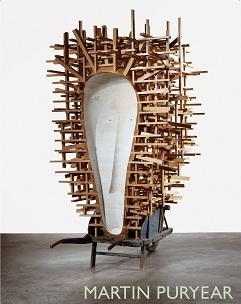 Copyright: Martin Puryear. Photo: Richard P. Goodbody
Puryear's 2006-7 work C.F.A.O. refers to masks by the Fang people of West Africa. View full image
In Martin Puryear's work things come together.
In and of itself such a statement would seem to make a modest claim for an artist as thoughtful and as formally and poetically ambitious as Puryear. Indeed many people take it for granted that art is inherently if not naturally a matter of bringing order out of chaos. Until one recalls how much of modern art has been about taking things apart -- with Cubism and Dada irrevocably dismantling the Renaissance conventions -- and how much of modern history has been about them falling apart.
Add to those forces the divisions among cultures that are the legacy of nationalism, colonialism, and slavery. In such a context, it is no small challenge to create a work in which sundered, segregated, or disparate traditions are merged, and a major achievement to actually do so in an original and wholly compelling way.
Which is why Puryear -- who received his MFA in 1971 from the Yale School of Art and while at the university studied with Richard Serra '64MFA and Robert Farris Thompson '55, '65PhD, among others -- has become so pivotal a figure in contemporary art in America. His stature has been confirmed and made widely known by a full retrospective of his work that opened at the Museum of Modern Art in New York in the fall of 2007, and in 2008-2009 will travel to the Modern Art Museum of Fort Worth, Texas, the National Gallery of Art in Washington, DC, and the San Francisco Museum of Modern Art.
Starting with spare elegant carvings such as Circumbent (1976) and Big and Little Same (1981) and continuing through virtuosic demonstrations of his craftsmanship such as Desire (also 1981), the selection evinces his familiarity with diverse ritual as well as functional paradigms in traditional object making, and his total mastery of all aspects of his equally varied technical means, from wood carving and joinery to leatherwork, stonework, basketry, casting, and polychromy. No single piece in that exhibition more strikingly combines the various strands of Puryear's woodworking skill than the most recent one, C.F.A.O. (2006-7). The piece is composed of essentially three distinct elements. First, its inherently mobile base consists of an old, beautifully fitted-together wheelbarrow which pays homage to vernacular carpentry even as it gives a nod to modernist "ready-made" sculpture, as epitomized by the bicycle wheel Marcel Duchamp mounted on a common stool. Second, the body of its structure is created from a matrix of pegged lengths of finely cut lumber. And third, the head and central image set into this matrix is an exquisitely carved variation on the whitewashed masks of the Fang people of West Africa, so that the intricate armature becomes a visual energy field or aura akin to the woven grass headdresses of actual Fang masks, while the wheelbarrow seems to allude to the migrations -- many of them forced -- of Africans from their homelands.
Deeply informed by its pluralist sources but never didactic or anything less than fully resolved in the relation of the parts to the whole, Puryear's art has much to show and much to tell. Yet even now with this retrospective it is only beginning to find the wider public which will eventually embrace it as one of the signal accomplishments of late-twentieth-century and early-twenty-first-century American sculpture.