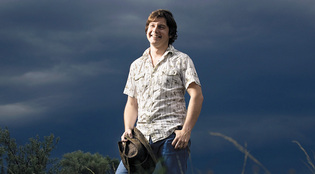 Marc Piscotty
Guy Padgett III '01 returned to his hometown of Casper, Wyoming, and entered politics, becoming the youngest mayor in the city's history. View full image
The highly publicized murder of gay college student Matthew Shepard in 1998 left many people with an impression of Wyoming as a violently intolerant place. But Guy Padgett III '01 has had a different experience. Padgett, a 31-year-old graphic designer, has served as a city councilman in his hometown of Casper since 2002 and served as mayor in 2005. Padgett, who left Yale after two and a half years, is now finishing his degree at the University of Wyoming.
Y: You're now openly gay. How about at Yale?
P: I was not out when I came to Yale, but I felt like I had the support and encouragement of friends and the staff. Yale is a very easy place to feel comfortable with your sexuality.
Y: You were at school in Casper with Matthew Shepard a few years before he was fatally attacked. I understand he was a friend. How did his death affect you?
P: It was very hard. Matt and I had talked a little bit about prejudice and homophobia in Wyoming, but it never seemed something that could threaten your life. When Matt was killed for being gay, it was really shocking to me. It's still shocking, ten years later. I'm working with the Matthew Shepard Foundation this year on programming and education activities and planning for the anniversary.
Y: Has that affected your life as a politician?
P: It has certainly affected my life. It made me question Wyoming and whether or not I really felt safe there. After Matt's death, Casper really had to look at itself and decide what kind of place we were.
Y: But you came back to Casper?
P: I left Yale in '98 and came back home for personal reasons. I met my partner, Jason, then, and we're still together. We moved out to DC after that, and I went back to Yale for a semester. It was extremely hard to be apart. That's one of the reasons I didn't finish Yale in the end. I was out in the world making money and had a relationship with someone I cared about, and I really wanted to make it work.
Y: Have you had any trouble in Casper because of your relationship?
P: I have had no negative comments in coming out as an openly gay politician in Casper, Wyoming. Frankly, that's the way it should be, and that's what I expected. This is a state where there is a strong libertarian streak in social politics in that you give one another space, both literally and figuratively.
Y: Casper's city council is nonpartisan, but do you belong to a party?
P: Oh, yeah. I'm a Democrat. I've never been afraid to tell anyone that. It's funny -- when I was running, a friend of mine said, Guy, no one is going to care that you're gay, but you better not let it out that you're a Democrat." But there is very little partisan politics called for in filling potholes. The city council takes its nonpartisan nature seriously. On the council, I was elected mayor by my colleagues, and the majority of them are Republican.
Y: What do you do as a councilman?
P: Depending on the week, I spend 15 to 20 hours on council duty. I've been working really hard on an urban renewal project in the downtown area. I'm very excited about it. We're implementing smart-growth principles to redevelop an abandoned industrial area with great old warehouses and riverfront property into housing, shopping, and offices, and really create a mixed-use neighborhood where people can live and work and play. I'm interested in urban renewal, in revitalizing our core neighborhoods, in making sure we invest in infrastructure while we're experiencing this energy boom that's brought a lot of money into Wyoming.
Y: What drew you to politics?
P: There was a lot of talk about young people leaving the state and never coming back. I had done it, but I came back. If young people don't feel like they have a place at the table -- not just on an advisory committee, but a vested interest in the community -- why would they stick around? So, that's what inspired me to run for office.
Y: You were a trailblazer as the youngest mayor and council member.
P: As young professionals, as young workers, we need to make sure our interests get represented. I'm hopeful. In the last election cycle, we had two other people under 30 elected to the council.
Y: Will you continue? Do you like politics?
P: No, I don't like politics. I like people. I like knowing that a bus system that I helped to start can help people get to work. I like knowing that an affordable housing project I supported not only revitalized the downtown, but keeps housing for workers. Politics is cumbersome. Helping people is what I'm interested in doing.
Y: How about helping the gay movement? Do you feel obligated to be a spokesman?
P: I've refused to let anything interfere with my first priority, which is to be an effective advocate for the people of Casper. On the other hand, I've always promised myself that I'm going to be honest. I'm not going to pretend to be someone I'm not for the sake of political expediency.