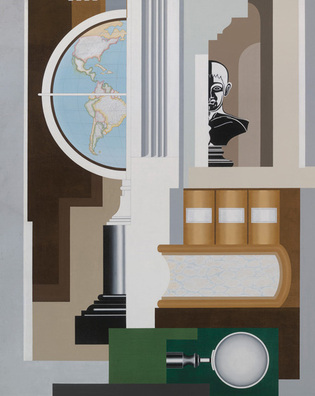 Estate of Honoria Murphy Donnelly/ Licensed by Vaga.
Gerald Murphy (1888–1964) graduated from Yale in 1912 and promptly joined the family business. But after several uneasy years of working for his father at the Mark Cross Company, Gerald decided that a life in leather goods lacked meaning. So, with his wife Sara, he went to Paris. There the couple joined a glittering avant-garde creative community, and at Villa America, their home in the Riviera, Pablo Picasso, F. Scott Fitzgerald, Cole Porter, and Ernest Hemingway were among their friends. In 1921, Gerald discovered modern art. "If this is painting," he said, "this is what I want to do."
Murphy, largely self-taught, painted Bibliotheque, above, during 1926–27. Like most of his work, it is both "autobiographical and full of ambiguities," says Amy Torbert, a curator of a recent exhibition at the University Art Gallery called Making It New: The Art and Style of Sara and Gerald Murphy. (The painting is part of the gallery's permanent collection.) "Bibliotheque is a recollection of his father's library, but none of the books have titles, the maps don't have state and country names, and the glass of the magnifying glass is opaque. This may represent the struggles he had with his father."
Gerald eventually overcame them. After the stock market crash, he moved his family back to the States, abandoned art—his total output was only 13 oil paintings—and went back to Mark Cross, which he ran until the mid-1950s.