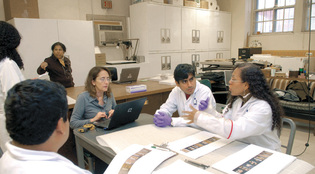 Michael Marsland
Researchers from Peru examined Yale's Machu Picchu collection in March. View full image
A tentative agreement between Yale and Peru over material from the ancient Inca site Machu Picchu appears to have fallen apart. Last September, negotiators had viewed the collection and agreed on a "memorandum of understanding" to the effect that about 350 museum-quality objects would to be returned quickly to Peru, while the vast majority of material could remain at Yale for study purposes for up to 99 years. But in April, the government instead called on Yale to return the entire collection.
The Peruvian government's change of heart was announced publicly after a review, conducted in early March by researchers from Peru's National Institute of Culture, of the Machu Picchu material (collected by Yale historian Hiram Bingham III '98 in 1912 and held by the Peabody Museum of Natural History for nearly 100 years). The team examined the contents of hundreds of boxes and museum shelves, holding artifacts ranging from ceramics to skeletal remains, and then compared the material with an inventory prepared by Yale.
Yale's inventory, posted online in early March, includes photographs showing that many of its entries contain numerous fragments, such as sherds belonging to a single pot. Due to the difficulty of counting such material, says Yale's general counsel and lead negotiator Dorothy Robinson, Yale had never attached specific numbers to the collection. But on April 14, the Peruvian government issued a statement suggesting that it had not known the collection's size. Peru's researchers, said Hernan Garrido Lecca, minister of health and lead negotiator, "determined that the amount, believed at first to be over 4,000 pieces of pottery, jewelry, and bones, is actually ten times this amount." The official Peruvian number is now "46,332 relics."
The change in Peru's position comes amid opposition in that country to the memorandum of understanding. In a February 23 op-ed in the New York Times, Eliane Karp-Toledo, former first lady of Peru and a vocal critic, said that the memorandum should be "discarded" and renegotiated "based on the recognition of Peru's sovereign right to all that was taken from Machu Picchu." Her viewpoint was echoed in an open letter from 23 academics in Peru and other countries, who called for repatriation of Yale's and other U.S. collections; and in a proclamation by government officials of Cuzco, challenging the memorandum's constitutionality.
At press time, Yale was weighing its options. "It would appear that the Peruvians are seeking to change the terms of the discussion," Robinson wrote in an e-mail to the alumni magazine. "Clearly this is a shift, and we have at this point not yet responded."