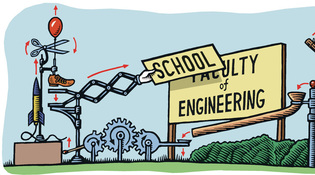 Gregory Nemec
In a gesture meant to call attention to improvements in its engineering programs, the Yale Corporation voted in April to create a School of Engineering & Applied Sciences (SEAS) to replace what had been called the Faculty of Engineering. "Being named a school is recognition that Yale is committed to and invested in engineering," says T. Kyle Vanderlick, dean of the new school.
Unlike most of Yale's 12 professional schools, SEAS will not be autonomous; it will remain part of the Faculty of Arts and Sciences (FAS), which is overseen by the deans of the Graduate School and Yale College. (Similarly, the School of Public Health has its own dean but is a division of the School of Medicine.) Engineering professors will still be hired through FAS, and engineering students will still be admitted by the college and Graduate School, both of which will continue to issue engineering degrees.
Is it a cosmetic change only, then? No, says Vanderlick. "We're still part of the whole, but the new name gives us a collective identity, and it involves a lot more than just a change of stationery."
Under the terms of the new arrangement, SEAS will be able to expand, adding 11 new faculty to the current 59. The school will also be able to determine on its own the most promising directions to pursue and will be able to hire accordingly. In addition, SEAS has been given the go-ahead for a new building dedicated to interdisciplinary research. It will be built on the site of the current University Health Services building on Hillhouse Avenue (slated for demolition after the new health services building is completed next year).
Improving Yale engineering's worldwide visibility is one reason to make the name change, says Vanderlick. "To attract both students and faculty, it helps to have a structure that people understand. To many outsiders, the 'faculty of engineering' designation looked a little odd."
And Yale's visibility in engineering could use some help. Yale's first School of Engineering existed from the 1930s until the early 1960s, when it was dissolved and all of its activities consolidated into a single Department of Engineering. In the early 1990s, the financially strapped university considered eliminating engineering altogether. But in 2000, President Richard Levin committed to invest more than $1 billion in facilities for science, medicine, and engineering, including the Daniel L. Malone Engineering Center, which was completed in 2005.
Yale engineering is still small compared with the best-known schools—MIT and Georgia Tech, for instance, each have more than 370 engineering faculty—and still far down the list in the U.S. News and World Report rankings of graduate programs (39th this year). But in a 2007 study, the scientific papers published from 2001 to 2005 by Yale engineering faculty were ranked first in overall impact, as judged by the number of times they were cited in other research publications.
"We're not as well known as we deserve to be," says Vanderlick, "but that's going to change."