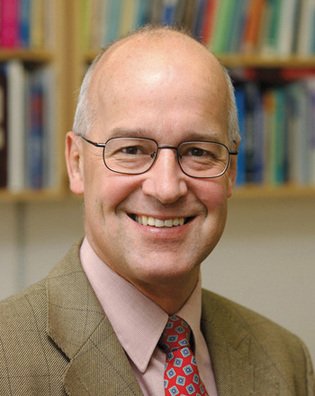 Michael Marsland
Provost Andrew Hamilton has been tapped to lead Oxford. View full image
The Yale provost's office is starting to look like a triple-A farm team for leaders of elite universities. In June, it was announced that Yale's current provost, chemist Andrew Hamilton, has been named vice chancellor of the University of Oxford—the fourth consecutive Yale provost named to the top job at a leading university. (The title of chancellor is an honorary one in British universities; the vice chancellor is the chief executive officer.) Hamilton follows past provosts Susan Hockfield (who became president of MIT in 2004), Alison Richard (vice chancellor, Cambridge, 2003), and Judith Rodin (president, University of Pennsylvania, 1994–2004). Hamilton will take office in October 2009.
Although a native of Britain, Hamilton has spent his professional life in the United States, including eleven years at Yale, four of them as provost. "It's not a system I have worked in before," he says of British higher education, "but it's one that I see as being a very interesting and important challenge for me." He will be the first vice chancellor of Oxford who had no prior affiliation with the university.
Hamilton cites the acquisition of the new West Campus, changes to the tenure system, and steps toward greater faculty diversity as sources of satisfaction during his tenure at Yale. He leaves in the midst of Yale's capital campaign, but he is stepping into a leading role in Oxford's recently launched $2.5 billion campaign.
President Levin wrote to the Yale faculty and staff that he plans to have a successor in place by early fall. If he follows precedent, Levin will not have to look far: the last nine provosts were all chosen from among Yale's faculty.