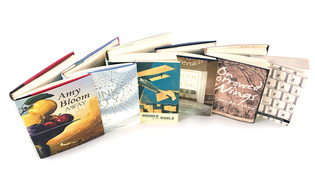 Hunk City
James Wilcox '71
Viking, $25.95
Reviewed by Julia Glass '78
Recently widowed by the elderly catfish farmer she met online, Mrs. Burma Van Buren, nee LaSteele, is trying desperately to divest herself of Graceland II, the architectural Elvis homage her late husband commissioned with his multimillion-dollar win from the Pick Twelve lottery. Now, if only she could find a buyer other than the consortium determined to open a museum replicating a prison, complete with IMAX; if only she could move out of her Republican Baptist mother's house; and if only Mr. Bobby Pickens, the superintendent of Streets, Parks, and Garbage and the unrequited love of her life, would free himself from that shrew of a wife . . . well, Burma's happiness might match her bank account. Complicating matters, her best friend, Donna Lee Keely (an aggressively tree-hugging feminist divorce attorney), is mounting a campaign to have Mr. Pickens impeached -- while sleeping with the soon-to-be-ex-husband of a client! (That husband would be Burma's accountant, the hapless Mr. Travis Harper.)
The mysterious stranger who arrives to unsettle and reconstellate all these lives is Dr. Schine, a landscaper and pseudo-anthropologist who believes that the fastest solution to global warming is putting a stop to the clandestine abuse of growth hormones, allowing people to return to their proper (short) stature, thus reducing worldwide consumption of all carbon-emitting resources.
Need I add that the buff Dr. Schine is our eponymous "hunk city"?
If you don't recognize that you've touched down in Tula Springs, Louisiana, you have yet to immerse yourself in the uniquely farcical world of James Wilcox '71, who directs the creative writing program at Louisiana State University. Wilcox has set half a dozen novels in this town, which he brought to life in his first book, Modern Baptists, a 1983 debut praised by literati as diverse as Harold Bloom, who included it in The Western Canon required-reading list, and Toni Morrison, who named it one of her "favorite works by unsung writers."
While Hunk City may not contain as much pathos as some of the earlier Tula Springs chronicles, it is every bit as jubilantly off-color, campy, and, most essential, side-splittingly funny, replete with subplots involving Gorilla Glue, flossing, and twenty-foot Plasticine crosses. A hit of James Wilcox is stronger medicine than anything your psychopharmacologist has to offer.
Julia Glass '78 is the author of the National Book Award–winning novel Three Junes.
Away
Amy Bloom, Lecturer in Creative Writing
Random House, $23.95
Reviewed by Janice P. Nimura '93
Amy Bloom's second novel is the kind of book you read not just with your eyes but also with your ears, your nose, your fingertips, and even your tastebuds. Set in the 1920s and unprepossessingly slim, it encompasses worlds -- from the Yiddish theater of Manhattan's Lower East Side to Seattle's Skid Row and the Alaska wilderness.
Lillian Leyb, Russian refugee, alights in New York and quickly makes a nest under the wing of Reuben Burstein, the Impresario of Second Avenue. Lillian's husband and parents have been killed before her eyes in a pogrom that seems also to have claimed her small daughter Sophie, and she pursues opportunity "as if it is a handsome man riding by and you have to toss your hair and pinch your cheeks and leap into the middle of the path, whistling, to make him stop."
But then word arrives that Sophie is alive, in Siberia -- and Lillian's flight becomes a quest. Heading northwest across America, bound for the Bering Strait, Lillian encounters a gallery of characters each vivid enough to inspire another novel. Tempered-steel women are Bloom's specialty: Chinky Chang the grifter and Gumdrop the baby-faced whore and Esther Burstein the Jewish doyenne all share the same smile, "bright and narrow and no more about happiness than a scimitar." Pungent, plangent, improbable, and devastatingly beautiful, Away hurtles forward, whirling you with it.
Janice P. Nimura '93 reviews books for the New York Times and other publications.
On Borrowed Wings
Chandra Prasad '97
Atria, $23
Reviewed by Ben Yagoda '75
As a movie critic years ago, I devised and always followed the 20 percent rule: that is, it's acceptable to describe plot points that transpire during the first fifth of the film -- but no more. So, since it's revealed on page 47 of Chandra Prasad's 310-page novel On Borrowed Wings (15.2 percent of the way through), I have no qualms about disclosing the high-concept premise of the book: teenage girl poses as boy to study at Yale in 1936.
The girl is Adele Pietra, the daughter of an Italian immigrant quarryman in Stony Creek, Connecticut. She has always been hungry for learning, but every family resource has gone to securing her brother a Yale admission and scholarship. When he and her father are killed in a quarry accident in the summer before the lad's freshman year, the boyishly slim Adele impetuously chops off her hair. Her eyes meet her ambitious mother's, and . . .
Purposeful gender masquerade is a venerable and almost always effective literary theme. Besides the surefire interest in the particulars of the protagonist's disguise, in whether he or she (or she or he) will get unmasked, and in the inevitable gender-bending romance, it offers ample opportunity for pointed commentary about gender in society. Prasad makes good use of all of the above, and gets in some shots about class and ethnicity as well.
But for anyone reading this magazine, the real pleasure of this novel will be the author's evocation of pre-World War II New Haven. By November, Adele feels completely at home with "the quirks of the campus: the perpetually stopped clock atop Harkness Hall, the skull-and-crossbones flag one student had brazenly hung outside his window. . . . There was Amato the Shoeman, his cart permanently parked outside Woolsey Hall, his talent for delivering a knockout polish in two minutes flat indispensable. On Prospect Street, a vendor named Skinny Al sold five-cent hot dogs slathered in spicy Polish mustard and sauerkraut."
Were Amato and Al real? I have no idea. But it's a tribute to this enjoyable novel that they're now part of my mental image of New Haven way back in the day.
Ben Yagoda '75 teaches at the University of Delaware and is working on a book about memoirs.
Personal Days
Ed Park '92
Random House, $13
Reviewed by Glenn Fleishman '90
Franz Kafka would have felt all warm and fuzzy in the office at the core of Ed Park's novelPersonal Days. In fact, waking one morning as a dung beetle might be an improvement over the situation in which the workers at this failing branch office in Manhattan find themselves. We don't know the nature of the business they do or the name of their parent company, and none of the branch workers -- save Pru, the most vividly painted of the characters -- seems to have a life or friends outside of work.
It's not quite clear how these people were hired or why so many are being fired. Allegiances shift. Crushes, but not relationships, rise and fall. A formerly sensible manager starts sounding like the Pointy-Haired Boss in the comic strip Dilbert. When people are fired, they simply disappear. (A group from the office does, however, visit one ex-colleague. He has founded an all-toaster restaurant.) One worker is relegated to "Siberia," a nearly empty floor two flights up from the rest of the company, before being fired. He leaves behind a mysterious collection of management-speak cliches that will eventually lead one character to a successful, if morally ambiguous, escape from powerlessness.
Park's book is divided into three sections. "Can't Undo" is in the voice of an omniscient "we," while "Replace All" is in third-person. "Revert to Saved" uses an epistolary, very personal first-person, and that tone is such a departure that it jars. But it works as a kind of deconstruction of the first part of the book, assembling a narrative out of what was only hinted at before.
Park didn't write a roman a clef, but there are clear associations in the book with his abrupt dismissal as Village Voice books editor in 2006 by new ownership based in Phoenix, Arizona. For the mysterious "Californians" who seem to have bought the parent company of this branch office, it's easy to read "Arizonans."
Glenn Fleishman '90 blogs about technology as the "unsolicited pundit."
The Eighth Wonder of the World
Leslie Epstein '60, '67DFA
Handsel Books, $24.95
Reviewed by John Crowley, Lecturer in English and Creative Writing
The Eighth Wonder of the World, the tenth novel by veteran writer Leslie Epstein, is crammed with extravagance. Epstein, who directs the creative writing program at Boston University, has a taste for impossibly grand feats of engineering. In his fine 1990 novelPinto and Sons, it was a gold mine a mile deep, and in this one Epstein outdoes himself: the rogue American architect, genius, nutcase, anti-Semite, and dreamer Amos Prince will attempt to create for Mussolini the tallest building in the world, a building a mile high.
Epstein also enjoys having his grand schemes and schemers fail terribly: the Mussolini Memorial, inextricably bound up with the war, the persecution of the Jews, and the far more frightening dreams being enacted in Germany, sums up what Epstein calls the "malignant merriment" of Fascism. The Duce speaks throughout the book in CAPITAL LETTERS when he's not speaking English in a Chico Marx accent -- expanding and contracting in glory or fear like a cartoon character. "Before their eyes they saw the depleted Duce revive, . . . the skin on his head, like a metallic reflector, starting to shine. . . . He was once again bursting from his clothing, so that the boots on his feet and the trousers that covered his iron buttocks and the collar about his neck all seemed to have been manufactured for a much smaller man."
The whole book's a cartoon with a great grief at its heart: a coupling that doesn't work on every page, but when it works it's like being tickled unwillingly -- you don't know if you can take it and you can't make it stop.
John Crowley's latest novel is Endless Things: A Part of Ægypt.
Adam the King
Jeffrey Lewis '66
Other Press, $12.95
Reviewed by Carlo Rotella '94PhD
"Get your money, fly your plane, build your house, get your kids into good colleges and if possible the same one you went to. And so it would go on, maybe. A matter of maintenance." Jeffrey Lewis, a television writer and producer best known for his work onHill Street Blues, captures in his trim prose the smoothly armored lives of those who summer in Clement's Cove, Maine, the rich and almost-rich whose privilege is measured by their insulation from the consequences of failure.
The most successful among them is Adam Bloch, a Yale man in his fifties who has built a grand "cottage" for his bride and her daughters. Adam's wealth and unblinking reserve grate on Roy Soames, a year-rounder who can't catch a break in life. As the two men head for trouble, the novel (the fourth in Lewis's Meritocracy Quartet) explores the coastal world of heedless cosmopolitans "from away" and the swamp Yankees who build and service their summer idylls.
A larger account of the waning flush times of the late 1990s resonates in the regional detail. "It was a familiar morning on the coast, that began with slashes of color and promise and soon clouded over with something more like the truth." In such an atmosphere, even Adam's seemingly trivial decision whether to let his daughters ride on Roy's boat becomes fraught. "To go in this boat or not. To risk Maisie's girls or not. To trust the world or not." Adam, a Jewish striver from Pittsburgh pursuing a Gatsby-like rise into the aristocracy, never does penetrate the fog of WASP entitlement that obscures the answer.
Carlo Rotella '94PhD received the 2007 Whiting Award for nonfiction.