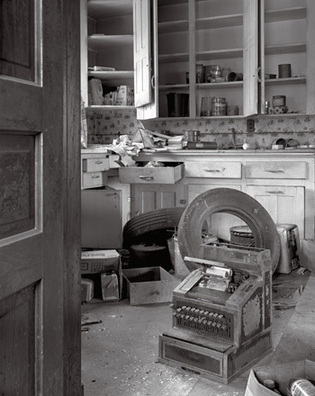 Five years ago, after photographer David Ottenstein '82 read about painful changes in the Midwest's rural economy, he decided to travel to Iowa and photograph its agricultural landscape and buildings. "I fell in love with the countryside, and I saw that its beauty and way of life were quickly disappearing," he says.
Ottenstein, who lives in New Haven, has returned to Iowa several times since then, mostly at his own expense. (He also had a small grant from the Iowa Arts Council and the Center for Prairie Studies at Grinnell College.) He has taken more than 3,000 black-and-white pictures, both on film and, more recently, with digital cameras, of abandoned homes, fields, grain elevators—the structures that supported a way of life now gone or vanishing. The Beinecke Rare Book & Manuscript Library recently acquired 300 of Ottenstein's Iowa photographs for its Western Americana collection. At the time, George Miles, curator of the collection, commented, "Ottenstein combines aesthetic and documentary images in ways reminiscent of Walker Evans, Margaret Bourke-White, and other American photographers of the 1930s, but with a contemporary sensibility that avoids sentimentality."
The kitchen in the 2004 image above is part of a farmhouse north of Iowa Falls. The farmer's sons want no part of farming, so, although their father continues to work the land around the house, the family has moved away. The abandoned house is now used as a dumping ground. "There's a sense of sadness and loss," says Ottenstein, "even among those who are tearing things down."