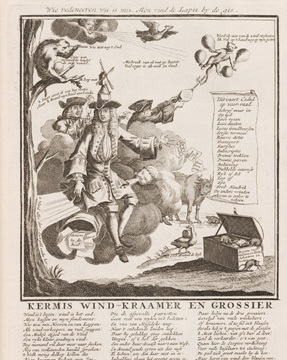 Beinecke Library
A cartoon from the Beinecke's copy of The Great Mirror of Folly—a Dutch book about the stock market crash of 1720—shows John Law, whose financial schemes brought down numerous speculators. View full image
A financial bubble bursts, and stock markets around the world are in free fall. Investor exuberance, greed, and folly are widely blamed. How could we all have been so foolish?
The year is not 2000, but 1720. Soaring prices for newly issued stock shares in France, England, and Holland had made speculators of everyone. The streets in Paris, London, and Amsterdam had buzzed with rumors of the Mississippi Company, the South Sea Company, and other unusual new financial firms set up to issue paper money, fund government debts, and write insurance. Spiraling asset prices made heroes of financial engineers. John Law, a former gambler turned French finance minister, quickly became the world's richest man. But when stock prices plunged Law fled the country, taking with him only what he could carry.
John Law is the culprit in the cartoon shown here, drawn by an anonymous contemporary and printed in an extraordinary volume called Het Groote Tafereel der Dwaasheid (often translated as The Great Mirror of Folly). The crash of 1720 was quickly memorialized by artists and writers. By the end of the year, Het Groote Tafereel appeared in Dutch bookshops—an anonymous multimedia extravaganza, filled with dozens of allegorical prints, plays, and poems about the crash, as well as financial documents about the Dutch Provinces' own bubble companies.
The book was a first, brilliant attempt by cultural critics to make sense of the wild fluctuations of the capital markets. Its flights of allegory portray what we now call "irrational exuberance"—the tendency of investors to suddenly throw caution to the winds. In fact, in Amsterdam, where the book was printed, the trade in global stock markets was disdainfully dubbed "Windhandel": trade in the wind.
Wind is the theme of this cartoon. Law floats on a cloud, and on his hat is a windmill. Suspended in the air to his left is a list of suddenly defunct stock market terms; behind Law, another manifestation of him keeps a ballooned cat aloft with bellows. The ape in the tree is a metaphor for foolish speculators who peer ahead but see no end to the increase in share prices.
In April, the School of Management and the Beinecke held an interdisciplinary conference on The Great Mirror of Folly. The book certainly bears contemporary study; 300 years after the first international stock market bubbles, the motivations and processes of wild financial speculation remain a puzzle.