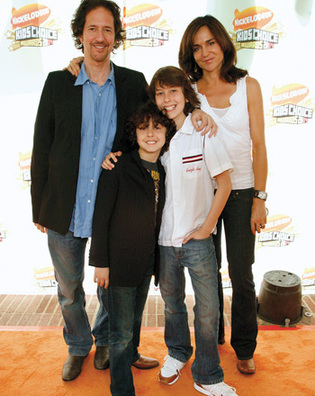 Getty
Polly Draper '77, '80MFA, writes and directs The Naked Brothers Band, a TV series featuring (left to right) her husband, Michael Wolff; and their sons, Alex and Nat. View full image
Most artists feel discouraged when people assume they're dead. But for Polly Draper '77, '80MFA, it's just a sign that her latest project is succeeding.
Draper is the creator, director, and head writer of The Naked Brothers Band, Nickelodeon's semi-fictional documentary series about her sons, Nat and Alex Wolff, and the rock group they formed with their real-life best friends. Michael Wolff, their father and Draper's husband, plays their dad on screen, but the TV boys' mother is dead.
Confused? So are many pre-teen fans, who often struggle with the fiction-reality fusion. "Kids can't figure it out," she says. "They see me and say, 'You're the mom?' It's like they're seeing a ghost."
From the beginning, Draper knew she would write herself out of her family's fictional life. Back in 2004, when Alex was six and Nat was nine, their interest in music inspired her to write and direct The Naked Brothers Band: The Movie, a feature film that became the basis for the series. "They already saw themselves as famous at that age," she says, "and I thought it would be funny to make a little documentary as if they were." (The name dates back to a time when the boys ran around their apartment after a bath shouting "We're the Naked Brothers Band!")
But even though she has her own successful acting career, including an Emmy-nominated stint as Ellyn Warren on thirtysomething, Draper opted to leave the on-screen parenting to her husband. "I thought it would be more fun to have these three little boys—two actual boys and a dad character who behaves like a child—and have everything in their lives be defined by that spirit," she says.
In fact, Draper has essentially halted her work as a performer. The demands of the series, whose second season ended in June, have forced her to decline almost every role she's been offered. "I do miss that, but this uses every single ounce of my creativity," she says. On the plus side, Naked Brothers lets her see her family every day. "When I would go off to do movies, it was incredibly hard for me to be away from my kids," she says. "This became a great solution."
Draper's clan may be always together, but is this normal life? Nat and Alex, now 13 and 10, are famous enough to provoke squeals of recognition on the street. Their best-selling albums spend weeks on the charts, and even though they're enrolled in a regular school, they spend most weekends playing concerts at malls and Wal-Marts across the country.
Draper says she and her husband, a jazz pianist, have been criticized for dropping their sons into the celebrity mill. "I feel that way half the time," she admits. "I think, 'What have I done?' But I don't think we're the prototypical stage parents. For one thing, none of the families involved in the show were ever desperate for their kids to get famous. It wasn't this thing that we killed ourselves to get."
Fair enough, then: Draper isn't Mama Rose. And her kids were hungry for the spotlight from an early age—no prodding necessary. When he was still very young, Nat put a sign on his bedroom door that said, "I want to be a child actor, Mom!"
Still, Draper and Wolff try to keep their unusual family life in perspective. "We talk about what's going to happen when this tidal wave dies down," she says. "That's one of the biggest parts of staying sane while it's happening."