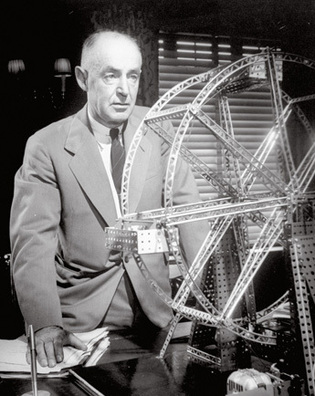 Getty
A. C. Gilbert, in 1944, poses with a Ferris wheel made from his most famous invention, the Erector set. View full image
A century ago, a Yale medical student named Alfred Carlton Gilbert won a gold medal at the 1908 Summer Olympics in London. He would go on to become enormously successful -- as neither an athlete nor a doctor, but as an inventive manufacturer of educational toys. His New Haven business became renowned for Erector sets and American Flyer model trains.
Of slight build at 5' 7" inches and 135 pounds, Gilbert developed himself into an outstanding athlete. For two summers during high school, he attended the School of Physical Education in Chautauqua, New York. Its director, J. W. Seaver, also headed the Yale Gymnasium, and he recommended that Gilbert eventually get a Yale medical degree to prepare for a top job as a physical education director. Gilbert first enrolled at Pacific University in Oregon; as a freshman, he was captain of the track team and quarterback of the football team. In 1904, after a single year of college, Gilbert, 20, entered medical school.
While at Yale Gilbert set two world records in the pole vault, once soaring 12' 8". But at the London Olympics, which were marred by international discord and disagreements over judging, he ran into difficulties. Most pole vaulters set their poles in a hole in the ground for stability; Gilbert had been one of the first to adopt this method. Vaulters in England, however, used a spike at the end of the pole, and the English judges ruled the use of a hole illegal.
Gilbert nevertheless set an Olympic record at 12' 2". Yet the judges declared a tie because, in a heat, E. T. Cooke of Cornell had cleared the same height. In his autobiography, The Man Who Lives in Paradise, Gilbert noted that this was "the first, last, and only time in Olympic history that a performance in a heat in the pole vault counted equally with performances in the finals." Cooke refused the gold medal; the Queen presented it to Gilbert.
After the Olympics, Gilbert returned to Yale to finish medical school. As he was no longer eligible for Yale athletics, he put more time into magic. He was an accomplished performer and while at Yale had put on magic shows in clubs from Boston to New York. Now, he and a partner set up the Mysto Manufacturing Company, concentrating on magic trick boxes. Gilbert's Yale professors tried to persuade him to stick to medicine and use his deft magician's hands for surgery. But business boomed. In 1910, Gilbert opened a magic store in New York City.
During his train commutes, Gilbert observed the electrification of the railroad through the erection of steel girders to carry the power lines. He thought "how fascinated boys might be in building things out of girders." Thus began the Erector set. In 1911, he cut out the first girder patterns in cardboard. His girders fit together more securely than existing construction sets, and the motors he included for action made his toy unique. Gilbert introduced Erector in 1913 at the New York Toy Fair. He placed eye-catching ads in national magazines, headlined with his personal slogan: "Hello Boys! Make Lots of Toys!" In 30 years, he sold 30 million Erector sets.
Gilbert started one of the first radio stations in the country, broadcasting the first infomercials (for his toys). He increased sales through Gilbert books, clubs, and contests and by opening the Gilbert Hall of Science in New York.
Throughout, Gilbert kept his passion for athletics. In 1928, he sponsored and hosted the first national sports radio program, on which he interviewed Babe Ruth and other greats. He served as advisory coach at Yale for 30 years, helping to develop what he called the "Yale dynasty in pole vaulting." He also served on many Yale and national athletic committees, and he managed the 1932 and 1936 U.S. Olympic teams.
The A. C. Gilbert Company closed six years after Gilbert's death in 1961. Today the five-acre complex in New Haven, called Erector Square, provides studios for dozens of artists. The Eli Whitney Museum in Hamden, Connecticut, displays A. C. Gilbert products. MIT's website calls Gilbert "one of the most multi-talented inventors of all time." The Smithsonian Institution's Palace of Progress on the Internet includes two Gilbert artifacts: a 1936 Chemistry Outfit for Boys and the prototype of a heart pump, which Yale surgery professor William Glenn and his student, William Sewell Jr. '50MD, built in 1950 -- with an Erector set.