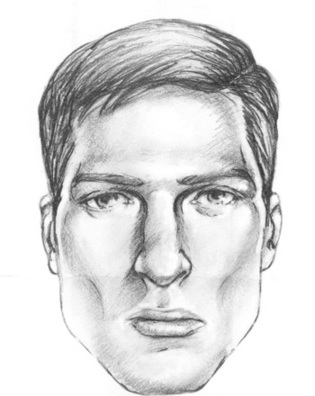 Connecticut State's Attorney's Office
Investigators hope someone may recognize this man from the evening in 1998 when Suzanne Jovin '99 was killed. View full image
Were you at Yale in December 1998? If so, you may have information that could help solve the brutal murder of a Yale student. On the evening of December 4, 1998, Suzanne Jovin '99 was found dead on a sidewalk in an affluent part of the East Rock neighborhood, with 17 stab wounds to her back and head. Nearly ten years later, the crime is still unsolved.
A team of four retired Connecticut State Police detectives took over the case in 2006, working for dollar-a-year salaries and reviewing all the evidence from previous investigations. The team recently issued appeals for information from the public regarding two leads that had never been released before.
The first is an e-mail message that Jovin wrote only 54 minutes before police found her body. In the message, Jovin responded to a friend's question about study materials for the Graduate Records Examination (GRE). Jovin wrote that she had lent the materials to another, unnamed person but would retrieve them and leave them in her apartment building foyer. The investigators would like to know who the unnamed person was and whether Jovin made contact with him or her that night.
The second lead is a report by a local woman who was driving north on Whitney Avenue in New Haven shortly before 10 p.m. on the night Jovin was killed. The woman told police that a man ran in front of her car, glanced quickly at her, and fled. Investigators have released a police sketch of the man and have posted it at numerous area businesses.
The investigation team is appealing to alumni for information on these leads—or any other relevant information. They can be reached at (203) 676-1575.
James G. Clark '72, assistant state's attorney, says there is still hope that the crime could be solved, even after nearly ten years. "The best chance of solving a case is in the first 24 hours," concedes Clark, but he adds, "the fact that we are now asking for information that people have not heard about before is positive."
Jovin's senior thesis adviser, former political science lecturer James Van de Velde '82, was identified as a suspect in the days following the crime, but neither he nor anyone else was ever charged, and the investigators say he is no longer under suspicion in the case. Yale canceled Van de Velde's spring classes after he was named as a suspect, and Van de Velde later sued both the New Haven police and the university for damage to his reputation. A federal judge dismissed the suit.