Last year, an army of about 65 artists, including 11 students from Yale, set up camp for nearly six months in Building No. 7 on the campus of the Massachusetts Museum of Contemporary Art (MassMoCA) in North Adams. Their mission: execute a kind of last will and testament left by pioneering artist Sol LeWitt (1928–2007).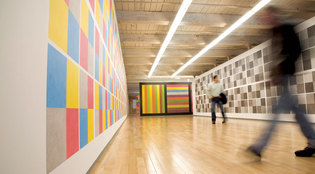 Mark Ostow
A master of minimalism and conceptual art, LeWitt had since the 1960s conceived hundreds of wall drawings by providing a diagram and instructions. The actual drawing and painting were left to others. (Shown here are WD 413, left; WD 681C, center; and WD 414, right.) "All of the planning and decisions are made beforehand, and execution is a perfunctory affair," LeWitt wrote in a 1967 Artforum article explaining his approach. "The idea becomes a machine that makes the art."
LeWitt left Yale his entire archive of wall-drawing plans. The University Art Gallery in turn began a collaboration with the artist and MassMoCA to design and develop a three-story, 27,000-square-foot exhibit space to house 105 of the works. Plan your visit now: they'll be on display only until 2033.