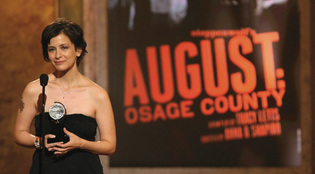 Andrew H. Walker/ Getty Images
Director Anna D. Shapiro '93MFA is taking her Tony Award back to Chicago. View full image
Now that Anna D. Shapiro '93MFA is somebody, who will she be?
Sure, she was doing fine back in 2007, when she was a respected Chicago theater director, working with that city's major companies and teaching in the graduate program at Northwestern. But then she directed Tracy Letts's play August: Osage County, and a new swarm of labels flew her way.
August, about a dysfunctional Oklahoma family, premiered in July 2007 at Chicago's Steppenwolf Theatre. That fall, it rode a wave of praise to a successful Broadway run. Suddenly, Shapiro was the hot new talent in New York, and soon she was also a Tony winner, picking up last year's award for Best Direction of a Play.
In other words, she became a brand-name director in less than a year, bestowed with the clout to do almost anything she wants. "It's very easy to be sanguine about your year when you've just won a Tony Award," she conceded not long after her win. "I feel very, very free."
Yet Shapiro is using her freedom to do essentially what she's done all along. After opening a London production of August last fall, she returned not to New York, but to Chicago, to continue teaching and direct three shows in 2009. This reverses a successful director's expected trajectory: Broadway hit, permanent move to Manhattan, attempts to have more Broadway hits.
Shapiro concedes that the standard path "can be the answer to the career question. Some people think it has solely to do with moving forward. But when you're fortunate enough to realize that you can actually be led by your personal interests, you realize that should be your only aspiration. It took me a while to get smart about that, but I finally figured it out."
Right now, one of Shapiro's interests is staying close to home. Newly married, she jokes, "It takes a lot to get me out of the house and into the rehearsal room." Plus, she was just made a full professor at Northwestern. "To me, that's as cool as a Tony Award," she says. "One of my goals is to be a great teacher, and I hate to be away from my students."
But there are also aesthetic reasons for Shapiro's post-August choices. For instance, despite their joint success, she chose not to direct Letts's newest play, Superior Donuts, when it premiered at Steppenwolf last summer. She says that's partially because the show's story—about the employees of a failing pastry shop—is too gentle.
Troubling plays can invite patrons to confront larger problems, Shapiro argues. Her most recent Chicago project was Our Town, which she codirected with Jessica Thebus at the Lookingglass Theatre in February. This March and April at the Goodman Theatre, she helms Regina Taylor's Magnolia, which explores Atlanta's desegregation. "On stage, I equate emotional paralysis with a deeper conversation," explains Shapiro. "I'm interested in people who are not free—people who look free but aren't." She pauses, then laughs. "That's probably going to kill my box office career."
Despite being one of the few women to direct a Broadway show, she says she's never felt like a victim of gender bias—rather, "you can benefit from people feeling good about championing a woman."
Still, she's only the fifth woman in history to win a Tony for directing. Small wonder that young women approached her at the August stage door to talk about their own directing dreams. "I think I seem familiar to them. I'm short, and I'm not British," Shapiro quips. "They come up, and some of them are talking about how the show and the success of the show have made them feel bolder about wanting to do this. And I'm proud of that."