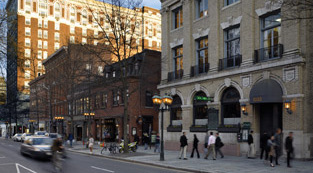 Christopher Gardner
Chapel Street's Union League Café is among New Haven's more established haute-cuisine spots. View full image
Try an analogy from your SAT days:
New Haven : Food ::
A) oil : water
B) swamp : malaria
C) Old Lyme : ticks
D) beach : rash
E) Tahoe : skiing
For almost a decade now, the correct answer has been (E). New Haven is a major culinary city, a destination for talented chefs and the foodies who love them.
I know. I can hardly believe it myself.
To be fair, New Haven has always had a modicum of excellent food. The Italian immigrants who came to work in the town's factories in the early 1900s gave us the gifts of Sally's, Pepe's, and Modern. No finer apizza can be found. But, in the '80s and early '90s, once you left these pie temples, pickings were slim. Alums from those times whisper tales of tuna melts and gloppy Alfredo. There was always the Doodle, but one can only eat so many fried English muffins. As an undergrad, I remember being tossed between the Scylla of the dining hall's Meatless Baked Ziti and the Charybdis of Claire's lentil soup, which my girlfriend was obsessed with. Meanwhile, my roommates seemed determined to prove that yes, man can live on hot wings alone.
Yet, as we microwaved our Cup O' Noodle soups, a slow revolution was happening around us. New Haven's economy was improving, Yale was revamping the Broadway corridor, and the city was casting off its dodgy reputation. Restaurants like the Union League Cafe, founded in 1993, catered to the Parents' Weekend crowds but also to locals and theatergoers out enjoying the newly burnished town. Other "Manhattanized" restaurants like Zinc and Pacifico and Roomba followed in Union League's wake. When you visit New Haven now, you realize that it's passe to argue about pizza. Instead, try out this line: New Haven has the best restaurants of any city its size in the country.
That was the bold statement made by several people during a recent culinary tour. And, no, they didn't work for the Greater New Haven Chamber of Commerce. They're students-turned-happy-locals such as Mark Oppenheimer '96, '03PhD, who teaches nonfiction writing at Yale, and my old roommate, who now runs a local coffee shop.
I wasn't completely surprised, as reports of New Haven's food renaissance had been filtering back to me in Brooklyn. Some friends, recent alums, went up for a visit and ate at Bentara, a Malaysian place located in the Ninth Square district. "We went in as New York snobs convinced that New Haven food would never rise above Bangkok Gardens level," they told me. But they came away with a one-word review: "Awesome." Another friend and alum rhapsodized about Bun Lai, the mad genius who concocts absurd dishes at Miya's Sushi involving potato skins and peanut butter and salmon bone oil. And I have a colleague at Slate who nurtures a Proustian fondness for the spring rolls at Thai Taste and can discourse for many minutes on the various merits of New Haven's Indian places.
Clearly, this would all have to be experienced firsthand, on an expense account.
Yum. The food was, almost uniformly, excellent. Yes, I had some gripes. A few dishes lacked some oomph (though I sensed the chefs were holding back the spices so as not to overwhelm the uninitiated). What's up with all the square plates? The menus could lose a few adjectives, and the dishes a few pretentious, subpar ingredients. Note to owners: there's more to "modern" decor than a really high ceiling.
But I come not to bury New Haven, but to praise it. The offerings are up-to-date: there is not a tired sun-dried tomato to be found. You'd like to try a selection of Rieslings from Oregon? No problem. The town impresses with its culinary range and finesse. I began one day with the best poori that I've ever tasted and ended it in the company of the aforementioned Bun, eating Asian shore crabs while sipping a sake designed to taste exactly like the ocean. (Better than it sounds.) Because of New Haven's many ethnic populations, there are good hole-in-the-walls where you can eat cheaply and well -- the chowhound experience. Because of Yale's stewardship and a local community that values good food, there are many worthy event restaurants -- the white-tablecloth experience.
How did this happen? I spoke with Robin Goldstein '02JD, who, as a Yale law student in 2002, co-wrote a cheeky guide to New Haven restaurants called The Menu. This spring he'll bring out the third edition, just in time for commencement. Goldstein sees New Haven's rise as a consequence of the newly safer city becoming a nerve center for central Connecticut just at the time when Americans were developing a hobby of "seeking out the best food wherever it was." He credits Roomba, a Nuevo Latino restaurant opened by the husband-wife team of Arturo and Suzette Franco-Camacho, as bringing a sexiness that hadn't been there before. (Roomba closed in 2007, after a very public lease dispute with Yale over some access rights. The Franco-Camachos opened a new restaurant on College Street called Bespoke, also a place that will impress a choosy date.) The other major event was the 2002 opening of Ibiza by then-chef Luis Bollo, an admirer of Ferran Adria and the "molecular gastronomy" movement -- think dishes with foam, or seemingly impossible creations like parmesan-cheese ice cream. In 2001, Mark Bittman offered this laurel in the New York Times: "I have not eaten at a better Spanish restaurant in the United States." Ibiza remains an unimpeachable reason to pull off I-95.
These days, Goldstein raves about Caseus, a modest fromagerie and bistro on the corner of Whitney Avenue and Trumbull Street. He says, "It's the most exciting restaurant to come to New Haven in a decade. It's not showoffy, expensive, or flashy in the way that Roomba was. It's reflecting a more modern trend. It's based entirely on local produce and local ingredients." The locavores have arrived! He describes the cuisine as "haute nostalgic American" -- in other words, the mac and cheese incorporates raclette, gouda, bechamel, comte, and brioche crumbs, and it comes with mixed baby greens. Goldstein hopes that Caseus inspires a back-to-basics movement among the town's high-end restaurants: "You don't have to be flashy. You just have to care about what you are serving." That plan seems to be working: presently, you need to make a reservation to eat at Caseus for lunch.
The other local establishment he sees as following the locavore way is 116 Crown, a tapas place opened by two refugees from BAR (which brews sublime beer, and -- sshhhh -- offers pizza that's just as good as New Haven's celebrated spots). At 116 Crown, the cocktails are not vodka-laced sugar drinks but old-school classics such as the Sidecar, while the mussels are served with bread from a bakery in Madison. What a boon to the hungry person in New Haven. Instead of following the old student maxim -- "There is a sandwich in every beer" -- you can actually have a great sandwich and a great beer.
And where might an aspiring chowhound find the next small thing? Goldstein suggests that you point your car towards West Haven, specifically Campbell Avenue. There's a Turkish place that's "just like walking into Turkey," with delicious grilled meat dishes, and a little Salvadoran place that serves impossibly good pupusas (corn pancakes stuffed with cheese, beans, or pork).
So, happily, the food in New Haven has improved since 1828, when Yale students went on a hunger strike to protest the "disgusting" fare served at Commons. Since that time, the chief benefit of the dining halls was how they made the food around New Haven more delicious by comparison. The revolution arrived in 2001, when the daughter of Alice Waters matriculated, and the famous chef helped bring sustainable food to campus. Grass-fed beef hamburgers, fennel-and-parmesan salad, roasted heirloom-and-fresh tomato pizza, apple crisp -- all made with seasonal, locally sourced ingredients. You know that change has come when even the dining halls join the ranks of the foodie-correct. Look for me in line: I believe I still have some money left on my meal plan, and about 15 years of table-tent reading to catch up on.