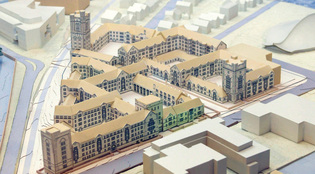 Michael Marsland
Yale's two new residential colleges, planned for a site between the Grove Street Cemetery and Ingalls RInk, will be separated by a pedestrian walkway. View full image
Just how different will Yale's 13th and 14th residential colleges be from the neo-Gothic colleges that are so intimately associated with Yale? As little as possible, preliminary drawings suggest.
The two colleges will be arranged around courtyards of various sizes, will feature towers as landmarks, and will be dressed in the buttresses, pointed arches, leaded-glass windows, and limestone trim associated with the Gothic style. As a concession to cost, the exterior will be mostly built of red brick, with less of the sandstone that is seen in abundance on the oldest colleges. Architect Robert A. M. Stern '65MArch says Jonathan Edwards College -- also mostly brick -- is "a good representation" of what the new colleges will look like.
Plans and a model of the new colleges were shown to the public for the first time on May 28 and displayed at reunions over the following two weekends. In a slide presentation, Stern emphasized the pragmatic and aesthetic care that has gone into shaping the plans. The largest courtyard in each college (for now, they're called simply "North College" and "South College") is sized to accommodate a tent large enough for commencement ceremonies. Each courtyard has lower buildings on its south side to bring in more daylight. And the corner of Prospect and Sachem streets -- opposite Ingalls Rink -- is set aside for a future undergraduate theater building to help insure the area is busy at night.
With 425 beds apiece, the new colleges will be about as large as Silliman -- the largest existing college. And as in Silliman and Timothy Dwight, the new colleges will house freshmen.
The plans call for the demolition of every building currently on the site, a triangle bounded by Canal, Prospect, and Sachem streets just north of the Grove Street Cemetery. There had been suggestions early on that the Seeley Mudd Library, a storage library built in 1982, might be reused as part of the plan. But University Planner Laura Cruickshank says that "getting further into site planning, we realized we couldn't fit the colleges around the library."
The choice of Stern -- who is dean of the School of Architecture and is known for his facility with historical styles -- as architect meant it was likely that the colleges would be traditional in design, but until now many speculated that they would be Georgian, like four of Yale's existing colleges. But Stern said at the presentation that "Georgian is not as central to our DNA as Gothic."
New Yorker architecture critic Paul Goldberger '72 says he is of two minds about whether a traditional approach is appropriate for twenty-first-century Yale. He also warns that Gothic "is difficult to do on a tight budget." But, he says, "what's very clear is that Stern has decided to go head to head with the master" of Yale Gothic architecture -- referring to James Gamble Rogers, Class of 1889, who designed eight Yale colleges, Sterling Memorial Library, and the Law School, among other buildings. And "if anybody can pull off James Gamble Rogers in the twenty-first century, it's Bob Stern."
The new colleges are part of a plan to expand enrollment in Yale College by 15 percent. They were originally scheduled to open in the fall of 2013, but construction has been postponed due to the economy. Although gift funding has been secured to allow the design process to continue, the university is still looking for donors to fund construction. Yale vice president Bruce Alexander '65 says the earliest possible date for completion would be 2014.