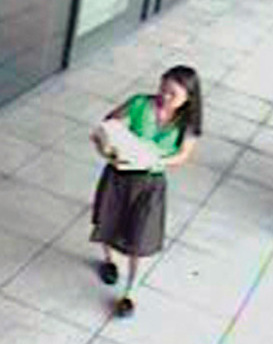 A security camera recorded Le entering the building at 10 Amistad Street on the day she was killed. View full image
First came an alert to campus and local media: a 24-year-old graduate student was missing, and Yale police wanted help in finding her.
On the morning of Tuesday, September 8, a security camera captured Annie Le '13PhD entering a laboratory building at the School of Medicine—but none of the 70-odd cameras surrounding the building and attached garage showed her leaving, that day or the next. Speculation abounded. A doctoral student in pharmacology, Le was about to marry her college sweetheart. Could she have gotten cold feet? Suffered an emotional breakdown? Sneaked past the cameras during the fire alarm that afternoon?
Days passed. Students, faculty, and staff grew increasingly worried that the 4-foot-11-inch, 90-pound Le—described as smart, fun-loving, and endlessly energetic—had come to disastrous harm. Yale offered a $10,000 reward for information leading to Le's whereabouts. Her fiance came in from New York, and her family from California. The young woman's disappearance became a top story on the national news, with dozens of reporters and TV trucks swarming the medical campus, the street outside Le's apartment, and every move the police made. More than 100 law enforcement officers joined the search, focusing on the lab building at 10 Amistad Street—where, on Saturday, investigators discovered bloody clothing hidden above a ceiling tile—but grimly expanding to include, among other places, a trash incinerator 40 miles away.
Finally, five days after Annie Le disappeared, police discovered her body hidden behind a utility panel in the basement of the laboratory building. She had been strangled. It was Sunday, September 13. It was supposed to have been her wedding day.
Then came the next shock: New Haven police charged Raymond Clark III, a 24-year-old animal technician who worked at 10 Amistad, with Le's murder. "One colleague murdered, and another accused—it's the talk of the medical school," says Laura Smith, president of Local 34, the union that represents clerical and technical workers, including Clark. "Nobody could talk about anything else."
At press time, Clark was being held on a $3 million bond; his lawyer told reporters that he expected to plead not guilty. Police had not publicly laid out a case against him or discussed his alleged motive—except to say what it was not.
"This was not a street crime," Police Chief James Lewis said in announcing Clark's arrest. "It was not a domestic crime. . . . It was a workplace crime."
Added Yale president Richard C. Levin '74PhD in a written statement: "This incident could have happened in any city, in any university, or in any workplace. It says more about the dark side of the human soul than it does about the extent of security measures."
Security measures certainly come to mind, however, when an employee allegedly murders a student on campus.
"I'm in my 30th year now at Yale, and I can count on one hand incidents that even rise to the level of workplace violence," union president Smith says. "But there are holes to be plugged, and something like this brings those to the fore."
"Even though this was not a consequence of a security lapse," says Levin, "there is no question that it touched off sensitivities of a community and brought to the surface anxieties about security in various parts of the campus, in particular the medical school." Yale is undertaking a review in response to employees' concerns. But even in hindsight, it's unclear what, if anything, might have prevented Le's murder. (For more from Levin on campus security, see "After a Murder, Reviewing Security.")
The morning of her disappearance, she left her office at the Sterling Hall of Medicine and went a few blocks to 10 Amistad Street, a two-year-old lab building where she did research. Like much of the medical campus, the building has tight security because of the sensitive work done inside, says Martha Highsmith, the deputy university secretary, who oversees campus safety.
In the case of 10 Amistad, that sensitivity arises at least in part from the presence of lab animals, which have attracted protest—peaceful at Yale, occasionally violent at other universities—from animal-rights activists. Entering the building requires an electronic ID card coded for "people who have a reason to be in that facility," Highsmith says. Getting into the basement, where Le's body was found, requires another level of access. Certain parts of the basement, including places where Clark regularly worked, are restricted to yet a third subgroup. Citing law enforcement sources, the Hartford Courant reported that card-swipe records indicate Le entered one such restricted basement lab area; Clark swiped in soon after, and Le was never seen alive again.
If tighter security would not necessarily have helped, what about closer pre-employment screening? Yale now does routine criminal background checks on new employees; Clark, who was hired before that policy was put in place, had no prior criminal record.
But his high school girlfriend told Good Morning America that she had to call the police when she broke up with him. "I wanted out" of the relationship, because "he would get very angry often," she said. "He would frighten me. He would get physical." After the breakup, "for about two weeks I was escorted from the school to my car." According to the online New Haven Independent, which obtained a copy of the 2003 police report on that incident, the girlfriend also told police that Clark had forced her to have sex with him. She declined to press charges, the Independent reported.
Others who know Clark have offered conflicting descriptions of his behavior: some former coworkers and neighbors told reporters he was controlling and volatile, while others described him as pleasant and friendly. Levin says that, to his knowledge, Clark's personnel record at Yale contained no disciplinary action or other indication of anything out of the ordinary.