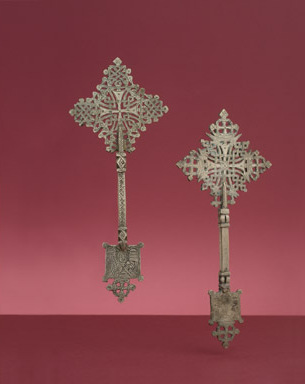 Mark Morosse
In 1960, world-traveling collectors and bibliophiles Valerian and Polly Lada-Mocarski retired and settled in New Haven—he to research his Bibliography of Books on Alaska Published before 1868, she to teach bookbinding at the School of Art. With them came these foot-high nineteenth-century bronze crosses from Ethiopia. The Lada-Mocarskis donated them, along with more than two dozen other Ethiopian art objects, to the Art Gallery in 1977.
The crosses were meant to be carried during processions by clerics of the Ethiopian Orthodox Church, explains Frederick John Lamp '82PhD, the Frances and Benjamin Benenson Foundation Curator of African Art. "The pierced designs, even though they resemble Celtic crosses," he says, "are distinctly Ethiopian and part of a long tradition that goes back to the twelfth century."
The crosses can be seen at Yale's Institute of Sacred Music, where they have been on display, as far as anyone can remember, ever since they arrived at Yale.