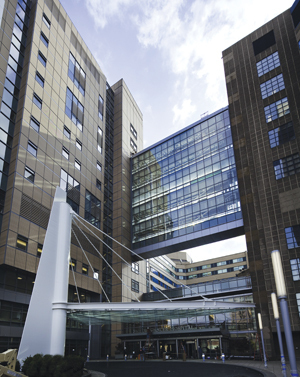 Robert Lisak
A multistory bridge connects the new Smilow Cancer Hospital (left) to the Yale–New Haven Children's Hospital. View full image
A diagnosis of cancer is one of the most devastating and unnerving pieces of news a person can receive. But when that patient walks into the lobby of the Yale–New Haven Hospital's Smilow Cancer Hospital (SCH), which was dedicated last October 21, the atmosphere is a carefully calibrated calm designed to soothe, allay fears, and encourage hope. The ambience comes from a two-story "water wall" in the lobby, the sounds of a grand piano, large fish tanks in the waiting rooms; an assortment of sculpture, paintings, and photographs; and even an outdoor "healing garden." But beyond all that, the 14-story, 168-bed SCH, built at a cost of nearly half a billion dollars, is all business.
The hospital, named in honor of major donor Joel E. Smilow '54, is also "the start of a multiyear process to rebuild cancer infrastructure at Yale," says SCH physician-in-chief Thomas J. Lynch Jr. '82, '86MD. "Yale has underperformed in cancer and fallen behind our colleagues. To be considered a premier medical school and hospital, we needed a renewed emphasis on cancer research and clinical practice."
The SCH occupies the site of the Grace Building, the former headquarters of the School of Nursing, on Park Street. It is connected at ground level to the rest of the hospital complex and by an enclosed bridge to the Yale–New Haven Children's Hospital. Although the hospital is officially open, considerable work remains to be done; SCH will not be fully operational until spring. But Yale's commitment to build SCH certainly figured heavily in the National Cancer Institute's decision in 2007 to renew Yale's and the hospital's status as a Comprehensive Cancer Center for five more years. (The renewal comes with $1.87 million in federal funding per year to support research.) There are 40 CCCs in the United States, and Yale's membership in that group had been considered in some jeopardy, in large part due to outdated and scattered clinical facilities.
The goal at SCH is to do away with the standard treatment system, in which patients traipse from office to office for serial appointments with doctors who are unfamiliar with their cases. Instead, each patient will be treated by a coordinated, multidisciplinary team of specialists in that patient's particular kind of tumor. The hospital currently has 12 such teams, devoted to brain, breast, prostate, endocrine, gastrointestinal, and skin tumors, among others.
A second innovation, which Lynch helped develop at Massachusetts General Hospital, is molecular profiling. "With this technique, we can profile tumors to find out why they're malignant, which genes are abnormal, and how we can best target them with innovative drugs and therapies," says Lynch, who also directs the Yale Cancer Center, the research arm of the university's cancer work. "It's personalized medicine."
Lynch feels that Yale, with its "tradition of excellence in science" and with the opening of new research facilities in the West Campus, will soon join the ranks of its world-class neighbors in Boston and New York. "Unfortunately, there are plenty of patients," says Lynch. "But more than any time in my life, I see a pathway to a cure."