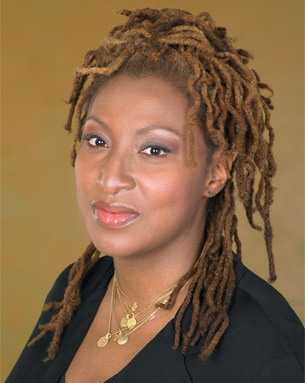 Luciana Pampalone
Lisa Cortés '83 was executive producer of the acclaimed film Precious: Based on the Novel Push by Sapphire. View full image
"For many years I've had the nightmare of having to take one more class to graduate," admits Lisa Cortés '83, with a laugh. She can put any such still-proving-herself dreams behind her, following her visit back to campus on October 15. Cortés was at the Whitney Humanities Center that night to host an early screening of one of the most celebrated films of the year, Precious: Based on the Novel Push by Sapphire. Cortés served as executive producer of the movie, which tells the story of an overweight, illiterate teenage mother. Precious earned rapturous praise for months on the film festival circuit, winning awards at the Sundance and Toronto International film festivals. We spoke to Cortés by telephone just before the movie's official release on November 6. Variety noted that the $585,000 Precious earned from a mere 18 screens was "the best gross ever for a film opening in fewer than 100 theaters."
Y: Where are you right now?
C: I'm in London, where I was just on a panel of women producers at the London Film Festival. In 2010, I'll be doing the same kind of thing at the "Yale in Hollywood" entertainment conference.
Y: The role of executive producer can mean lots of different things, depending on who's doing it. How do you define your role in the making of Precious?
C: I guided this project for four and a half years, from its conception to its christening, through preproduction, production, postproduction, sales, and marketing. I feel like my DNA is encoded onto it. The hardest part about Precious was getting it made. Everything else was icing. I've been promoting it nonstop, but it's been fun, though. After so much time on the project, it's nice to share it, for people to discover what you think was important about the story in the first place. It talks to so many things Yale inspired in me. It's based on this fantastic piece of literature.
Y: It must be very satisfying to have been granted the rights to turn the book into a movie.
C: I was deeply honored. I'm especially happy that Sapphire's book is number one on the bestseller charts again. What's intriguing about the character of Precious is that we haven't seen a story like hers before in film. She gives a voice to the voiceless. When have you seen a young woman of her depth depicted on the screen?
Y: You took an unusual career path following graduation, working for the hip-hop recording label Def Jam in its early years.
C: I lived in a fantastic suite my senior year in Morse College. One of my roommates, Bruce Cohen ['83], went on to produce American Beauty and Milk. Another roommate, Angela Cason ['83], has a fantastic marketing company, so they didn't follow traditional career paths either. I brought a lot of discipline from Yale into my career in entertainment. Working in hip-hop was certainly a different path to take, but I was interested in new art forms. Yale anchored my inquisitive nature and stoked my desire to explore popular culture. Def Jam was great: unstructured, small. I was known as "the smart girl—she went to Yale!" so I was given a lot of special responsibilities.
Y: What was Yale like for you?
C: I knew a broad range of people who are still my friends. You could be working on something with a member of the Russian Chorus, scholars of the house in art and architecture, radical feminists. Think of who you're in the company of while you're there, all the physical and metaphysical resources. Not just the people, but the fact that the original manuscript of Zora Neale Hurston's Their Eyes Were Watching God is in the Beinecke. It's what Emily Dickinson talked about, "dwelling in the possibilities." And those possibilities are your fellow students.
Yale's Day of Service last May was a reminder of the founding principles of the university—that we should not just go to Wall Street, make a million dollars. After the screening at Yale, I met a lot of people who echoed those possibilities.
Y: The Precious screening was the kickoff event for the 40th anniversary celebration of the Afro-American Cultural Center at Yale. How did it go?
C: I spent a lot of time at the Afro-Am Center as a student. It gave me a wonderful intellectual and political framing. They got me out into the community tutoring New Haven students through the Urban Improvement Corps. The turnout at the screening was great. I love that it wasn't just students—it was people from the New Haven community. That was an important part of my Yale experience.
What really distinguished the Yale screening from others was that we don't usually have such a well-thought-out introduction, bringing in film theory and feminist critique. Terri Francis [assistant professor in film studies and African American studies] started out with a discussion about gaze and form. That's not a conversation we have after most screenings.
Y: So, an ideal homecoming then.
C: The campus was crispy, the leaves were beautiful. I fell in love with Yale again—the sheer Boola-Boolaness of it.