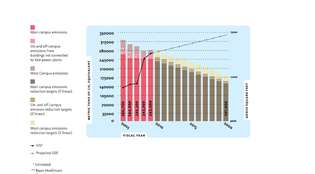 Mark Zurolo '01MFA
Source: Office of Sustainability. View full image
The equation is simple: a bigger campus—with more buildings, more people, and more activity—equals more energy use and more global warming.
Yet if you draw a line projecting the growth of Yale's campus, and another showing the university's goals for greenhouse gas emissions, the projections form a sideways V—a less-than sign, if you will. The top line represents gross square footage, expected to increase from 13.5 million to nearly 15 million by 2020. The bottom line of the V, showing metric tons of planet-warming gases, is supposed to decrease from 242,000 to 147,000.
That's a 39 percent drop in the next 11 years, even as square footage grows by 10 percent. A nice less-than trick. How will Yale do it?
"It's an ambitious goal," acknowledges Keri Enright-Kato, a project manager in the university's Office of Sustainability. "But we think it's achievable."
Yale set that goal in 2005, declaring it would cut its greenhouse gas emissions 43 percent by 2020. So far, it has notched a 7 percent reduction, even as the main campus has grown 5.5 percent. The biggest drop came in the first year, largely as a result of switching power plants from oil to cleaner-burning natural gas.
These figures do not include the West Campus. That former Bayer pharmaceutical facility, which Yale bought in 2007, is slated for its own 43 percent emissions cut. At the time of the 2005 baseline, Bayer had essentially eliminated its manufacturing operation there but was still conducting research. The West Campus is nearly vacant now, but Yale plans to expand its operations there.
Looking ahead, the biggest cuts are expected to come from investing in clean energy projects off campus, and from various energy efficiency measures on campus. Yale's sustainability website says the university hopes its actions "will lead to similar commitments by other institutions nationally and globally": that its sideways V will become a less-than sign pointing the way to a change that is greater than just Yale.