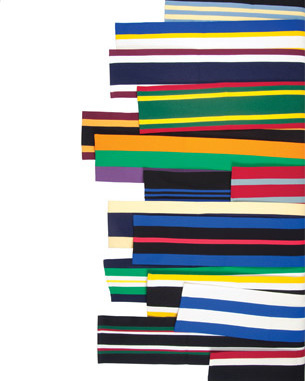 Mark Ostow
Although the "schoolboy" scarf has become a symbol of the academic elite, it has penurious origins. As the English clothing company Luke Eyres tells the story, a shortage in wool yarn during World War II forced the company to compensate by piecing their mufflers from woven wool, thus originating the now-prevalent vertical stripe motif. Even after the war, when wool supplies rebounded, Cambridge and Oxford opted to toe the vertical line.
Ivy League schools soon adopted the scarves, which have seen a resurgence in popularity in the last decade. The clothing company J. Press now offers versions for all the residential colleges at Yale, some of the graduate and professional schools, and other groups such as the Conservative Party and the Elizabethan Club. Jim Fitzgerald, manager of J. Press in New Haven, says most Yale scarves rely on the colors of their college's or school's coat of arms. But the School of Art offers a visual twist. The winner of its scarf design contest—a sculpture student, recalls former dean Richard Benson—proposed orange, green, and purple: a full spectrum of colors, minus the three primary colors on the school's arms. Although that high-concept approach left out indigo, says Benson, it "was accepted even though it didn't necessarily produce an accurate, or pleasing, result. But it doesn't look like any other scarf at Yale, so we all enjoy it."
Despite the fact that the scarves are meant to individuate members of a clan, there is occasional cause for confusion. Cambridge's Peterhouse scarf, for example, is sold by J. Press as a Yale University scarf. But there are undoubtedly a few who are entitled to wear it on either side of the pond.
From top to bottom:
1. Pierson
2. School of Nursing
3. Timothy Dwight
4. Silliman
5. Trumbull
6. School of Art
7. School of Drama
8. Berkeley
9. Calhoun
10. Divinity School
11. Branford
12. Ezra Stiles
13. Peterhouse/Yale
14. Jonathan Edwards
15. Davenport