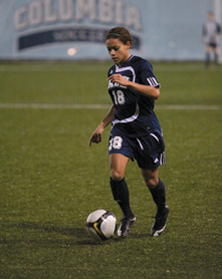 Sam Rubin '95/ Sports Publicity
Junior forward Becky Brown was the Ivy League Player of the Year in women's soccer. View full image
Becky Brown '11 got the news on November 12, via text, while sitting in a seminar on the Czech filmmaker Milos Forman. When her cell phone buzzed with the message from her mother, Brown smiled, then nonchalantly tilted the screen toward teammate Leslie Perez '10: Brown had just been named the Ivy League Player of the Year in women's soccer.
"I was really excited when I saw it, although obviously we couldn't say anything in class," says Brown, who helped Yale finish second in the Ivy League (to Harvard) this year while becoming the first Yale player to win the award since 1993. "It was a successful season for the entire team, a big turnaround from last season, when we finished seventh."
With Brown and Ivy League co–Rookie of the Year Kristen Forster '13 returning, Yale should have the ingredients on offense to depose the Crimson next year. Brown's 13 goals were the fourth most in school history, while Forster led the Ivy League with nine assists. "I always know that any ball she plays to me will be perfect and put me in position to score," Brown says.
A similar triumph took place at Johnson Field, where a couple of ace playmakers helped Ashley McCauley '10 become the most prolific offensive player in Yale field hockey history. In the final game of the season, against a Brown squad that had won two straight against Yale, McCauley bested the career points record of Emily Montgomery '78. Her team, meanwhile, became the first in program history to win six Ivy games, and Katie Cantore '10 extended a third record, established three games earlier, by notching her program-best 16th assist of the season. McCauley made her record-setting goal off a pass from Dinah Landshut '12—a pairing that was emblematic of their team's season. "Dinah set me up," says McCauley, who finished her career with an even 100 points. "She and Katie have been so great to play with. They do the hard work and beat everyone and get me the ball, and then I get the credit."
Their team finished its banner year with only one Ivy loss (to Princeton, which won its 15th title in the last 16 years) and fond parting memories for a senior class that had endured three straight losing seasons. Breaking the scoring record "was a cool feeling, but I would honestly say I'm more excited with the season that the team had this year because of how far we've come from freshman year," McCauley says.
No senior class will graduate with more accolades than the veterans of the volleyball team. In the final season for stars Cat Dailey '10 and Alexis Crusey '10, Yale earned its sixth straight top-two finish under the widely respected coach Erin Appleman. Crusey finished her career by becoming just the fifth player in Ivy volleyball history to earn first-team honors four times. "Lexi is someone who literally I will miss every day for the rest of my coaching career," Appleman says. "It didn't matter that she was so good—she always wanted to get better. I'm going to miss that more than her talent."
Dailey, who transferred from UC–Berkeley prior to her junior season, was the unanimous Ivy League Player of the Year in 2008 while helping Yale advance to the second round of the NCAA tournament. She made the All-Ivy first team again this fall as the Bulldogs finished two games behind Penn in their quest to defend the conference crown. "Cat Dailey is probably the best athlete that the Ivy League has ever come across," says Appleman. "She jumps higher, hits harder, and played better defense than any other player in the conference."