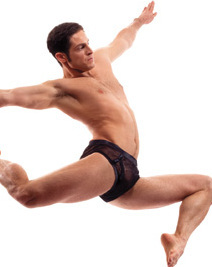 Tom Caravaglia/ Brief Encounters
Michael Apuzzo '05 (shown here dancing in a piece called Brief Encounters) learned to dance at Yale and was tapped for the prestigious Paul Taylor Dance Company last year. View full image
The Paul Taylor Dance Company, founded in 1954, is one of the most prestigious dance troupes in the world. The men in the company famously conform to a type modeled after Taylor himself: broad-chested, beefy, athletic. Michael Apuzzo '05, who has modeled for Abercrombie & Fitch, fits right in. But his path to joining the group in 2009 was unusual. Brian Seibert '97, who writes about dance for the New Yorker, spoke with Apuzzo about how he became a Taylor dancer.
Y: Most dancers begin their training at an early age. Was that true for you?
A: Before college, the only dancing I did was in musical theater. I took a few dance classes in preparation for certain shows, but not regularly, in a studio. It's really through tae kwon do that I learned the skills to be a professional dancer.
Y: Tae kwon do?
A: Yes, tae kwon do develops muscular endurance, concentration, and discipline. I started in middle school and competed regularly throughout high school.
Y: Did you continue at Yale?
A: No. The tae kwon do club at Yale was a different style than the one I had trained in. Instead, I found the undergraduate dance companies. YaleDancers, Rhythmic Blue, A Different Drum—pretty soon I joined them all. They had classes at least twice a week, performances twice a year. These were mostly student-run organizations, and it was through the talents of the students around me that I learned to dance. Some of the girls had been taking ballet all their lives. They took it seriously.
Y: Did you imagine at that point that you might become a professional dancer?
A: Not really, though it started to seem like a real possibility my senior year when I danced professionally at the Yale Cabaret and in a Yale Rep production of Miss Julie. We were dancers and we were characters, too, and that appealed to me.
Y: So when you thought of a career as a dancer, you thought of theater, as opposed to concert dance?
A: The only company I ever wanted to join was Paul Taylor's. My freshman year I was working in Yale's procurement office, and my boss, Tim Bertaccini ['77], who was a huge Taylor fan and knew I was getting into dance, took me to New York to see the company. A new work was on the program, Promethean Fire. It was like nothing I had ever seen. Brilliant, athletic, amazing. I went back every year. I snuck backstage and met the dancers and I made friends with one, Richard Chen See. I put up Paul Taylor Dance Company posters on my dorm room walls.
Y: Then when you moved to New York after Yale, you had a goal?
A: I taught algebra at a science magnet school and took as many dance classes as I could. One Saturday, I went to an audition for the Taylor company, my first professional audition. I made it through a few rounds, so I was pretty happy.
Y: But you went back?
A: Well, after the teaching year was over, I started doing more auditions. I got into the touring company of Twyla Tharp's Movin' Out, which I had loved on Broadway, and after I got back to New York, there was another Taylor audition, because Richard Chen See was retiring. During the last round, Paul softly said something to each of the guys auditioning, and they looked disappointed. Then he told me, "You're the only one left. You know what that means." By the time I processed it, everyone in the room was clapping.
Y: What was it like to go from being a fan to a company member?
A: It was awesome. When I performed Promethean Fire the first time, I brought with me the thrill I had as an audience member. But now I was part of it, this important work of art. Unbelievable.
Y: Paul Taylor is 80 years old. He's been creating dances for almost 60 years and he still cranks out two new ones every year. His dancers perform classics he made decades ago along with brand new pieces. How is one different from the other?
A: With the older pieces, there's a rehearsal director who teaches the steps, and videos to watch. And with some of the really old pieces, if they haven't been done in a long while, it's like putting together a puzzle. I'm always reminded of the lineage of great dancers who have performed a role before me. But having Paul create choreography for you, using your body—that's the ultimate. You never know what he's going to ask of you. I consider him the greatest living choreographer.
Y: You're right where you wanted to be.
A: I always think about how fortunate I am. It's unusual for a dancer to have a year-round job, and health insurance, and typical hours, 9:30 to 5. Paul has said that making dances is a blue-collar job. With my own blue-collar background, that makes sense to me.
Y: Your dad was a North Haven cop and now works at Yale's West Campus. What does he think of all of this?
A: He came to see my first Paul Taylor show in New York and he was blown away. For me, that's a testament to how Paul's work can capture anyone.