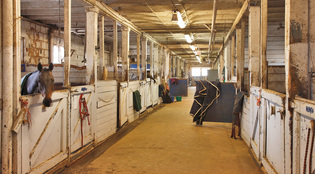 John & Cassidy Olson/ Olson Photographic
The Armory before it was closed last year. View full image
Three nights a week, the men and women of the Yale polo team pile into cars and make the 20-minute trek up Route 63 to Bethany. At Crotta and Sons Ranch, a 55-acre slice of transplanted Texas (known for its Memorial Day roping competition), they scrimmage two-on-two, in a makeshift arena too small to accommodate the regulation three-on-three. Lacking wooden walls to keep balls in play, they have draped netting over the metal boundary gates, with varying success. "It's definitely interesting," says Elizabeth Kennedy '11, the current team president. "We end up spending a lot of time chasing balls around because the arena isn't ideal for polo."
The spartan quarters have made for a challenging routine for the program. Polo has an illustrious history at Yale, dating back to 1920, when the ROTC used the sport to train cavalry officers. The men's team quickly became the most successful college team in the country, and in 1976 Yale won the first women's title. But polo lost its varsity status in the 1970s, and the most recent national championship came in 1985. Last summer, after a decade of vain efforts by players and alumni to secure renovations, the athletic department decided to close the Armory—the club's 93-year-old barn near the Yale Bowl.
The department cited the dilapidated conditions of the barn and the high cost of operations. Estimates for needed renovations have exceeded $5 million, and despite efforts by former manager Eileen Flint to subsidize the high cost of horse maintenance, Yale had been forced to cover overruns for the past four years. Flint and two other barn staff were laid off.
"The university supported this program for a number of years just by allowing it to be," says Flint, who insists she has no hard feelings. "They weren't the bad guy in this. Like a lot of other universities, they had to cut corners."
Most pressing to polo supporters now is the search for a permanent home more accessible to campus and large enough to accommodate intercollegiate matches. "Our next step is to determine a location for our future site, and then we will begin fund-raising," says Liz Brayboy '84, who serves on a polo alumni board. "We had hoped that that location might be somewhere on campus, but it was made relatively clear that the university does not want us on campus."
In the meantime, the men's and women's teams have made do with practices at the ranch and a match schedule loaded with road trips. They are permitted to use the arena at the Armory—but without the stables, it requires transporting horses from Bethany by trailer. A mixed match against Harvard on the eve of The Game was a success there, but three other Armory matches were canceled because freezing temperatures precluded moving the horses.
Though the team now has use of only 15 ponies, less than half last year's number, player attrition has been light. The problem is attracting newcomers. Just five freshmen joined this year, down from roughly a dozen most years, which does not augur well for the future. "Luckily, the team this year has really banded together," Kennedy says. "But if I came in as a beginner and saw a program that wasn't being fully supported by Yale, I don't know how much time and interest I would put into it."