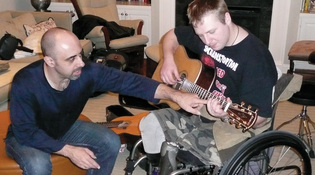 Courtesy Arthur Bloom
Musician Dominic Frasca '94MUS helps Sergeant Matthew Penland refine his guitar technique as part of the Musicorps program at Walter Reed Army Medical Center. View full image
When you need the healing power of music, Arthur Bloom '86, '93MusM, '94MusAM, has demonstrated, never rule out death metal.
As the founder of Musicorps, which he describes as "an intense music rehabilitation program for injured combat veterans," Bloom has arranged challenging new pieces by soldier composers, enabled death-metal fanatics to form a band, and helped a wounded veteran find the appropriate prosthetic limb to resume a musical career.
In the early 1990s, Bloom wrote for classical ensembles, produced rap records, and created a eulogy for John Cage involving a singing, hopping Miss Connecticut. That flexibility served him well when he founded Renovation in Music Education, a program that forged artistic partnerships among young Washington, DC–area musicians and NASA scientists.
Three years ago, Bloom was asked by a friend at Walter Reed Army Medical Center in Washington, DC, to visit Sergeant Nicholas Firth, a patient who'd had his leg amputated and feared he'd never play drums again. While helping Firth locate the prosthetic limb that would allow him to play (in a testimonial, the sergeant gushed that music "gives us a piece of us back"), Bloom saw that Firth's was far from an isolated case.
"I thought, 'What could I do to help?' and realized I already had the weight of a nonprofit that does music partnership programs behind me, and that this could be the catalyst." Bloom's now made hundreds of trips to the medical center, maintaining Musicorps as a forum for high-quality musicianship. He helps soldiers obtain instruments, connects them with professional mentors, and enables them to collaborate and record—despite injuries as serious as amputations and traumatic brain injuries. "It's a new algebra of collaboration," Bloom says.
When Bloom started, he feared that his program would have limited appeal. To his delight, dozens of soldiers were ready to rock—or play the mambo, or painstakingly master Beethoven sonatas. Now, he's had to recruit guest artists to help teach the soldiers, and there's interest in expanding Musicorps' programs to other military hospitals.
"Music is so much a part of these soldiers' lives—it's all over the battlefields, on their iPods and radios," he says. "They're very music-oriented, whether they play or not."
Sergeant Matthew Penland had been learning the guitar while serving in Iraq. But he gave his instrument to the medic who saved his life after a roadside bomb landed him in a coma, cost him parts of both legs, and caused a series of other injuries. While Penland was rehabilitating at Walter Reed—he underwent 30 surgeries—he connected with Bloom. Through the program, Bloom was able to get Penland the same model of guitar he had given away. And, with help from guest artists in the program, Bloom taught him to play.
Dominic Frasca '94MUS, one of the artists who worked with Penland, says teaching through Musicorps reminds him "of what made me want to play music and work so hard at it in the first place." Frasca, a YouTube sensation renowned for a 10-string guitar technique, also brings practical medical knowledge to his Musicorps work. He's an expert on focal dystonia, a neurological condition that causes involuntary muscular contractions in the hands.
"I've had it twice myself, and I've helped other guitarists recover from it," he says. "So it's helped me figure out how you can work around injuries—what you need to do to play correctly."
The experience has helped him work with soldiers with very different limitations, and the results have been heartening. One patient, who'd never thought music would help him overcome the boredom of recovery, now practices for hours on end, learning guitar technique from Frasca while writing and recording songs with Bloom.
Bloom says he's been moved by how soldiers' combat experiences have provided artistic inspiration. A Musicorps-assisted rapper mixed realistic battle sounds into one of his recordings, and one newly formed band named itself after a military slang term, Blind Fire. "They're a good, credible, brutal death-metal band," Bloom explains; he's arranged for the group to play in a Musicorps benefit concert March 6 at the Trash Bar nightclub in Brooklyn.
Both Walter Reed and the Department of Veterans Affairs support the expanding venture, but its funding must come from elsewhere. That's where Bloom's experience in raising money for his unorthodox musical projects comes in handy. Musicorps was awarded one of the first alumniVentures grants from the Yale School of Music last year (see Light & Verity, March/April 2009) and has received donations of music equipment from Apple, M-Audio, and others.
"Arthur's such a special guy," Frasca says. "You'd think some classically trained composer, going into a place like that, would get just blank stares. But they can't wait to see him. These guys just soak stuff up."