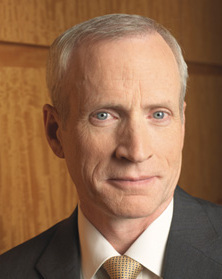 Matthew Gilson
Ted Snyder will become dean of the School of Management next year. View full image
School of Management professor Jim Baron, a member of the search committee for a new SOM dean, called Edward A. Snyder, the dean of the University of Chicago's Booth School of Business, last May. He was mainly hoping to get some ideas about possible candidates. But in a follow-up e-mail, he slipped in the suggestion that "if you had even the slightest glimmer of interest," Yale would like to talk.
Eight months later, Snyder, whom Yale president Richard Levin '74PhD calls "the most successful business school dean in the nation," was introduced to the school as its next dean. After finishing his term at Chicago and taking a year's sabbatical, Snyder will come to Yale in July 2011. Meanwhile, construction may begin this summer on the school's new home across the street from the Peabody Museum.
In nine years as dean at Chicago, where he earned his PhD in economics, Snyder doubled the business school's endowment, thanks in large part to a $300 million gift from alumnus David Booth, for whom the school was renamed in 2008. He also oversaw a move to a new home for the school at Chicago, established a new campus in London, and tripled financial aid. So what attracted the 56-year-old dean of Business Week's number one–ranked business school to the helm of a smaller, less prestigious school (Business Week's number 24)? "I had no interest in going to a school that was finished," he says. And the opportunity at Yale fit well with a theory Snyder has about the future of business education.
Snyder says business schools today focus on teaching students about how markets work and how organizations work. "Those will remain extremely important," he says. "But I think there is now also a need for a third competence. I don't even know what to call it yet, but it has to do with understanding differences in culture, politics, and legal frameworks. I think at Yale there is a chance to do something extraordinary: to leverage the resources of the rest of the university to work on this third competence."
In announcing Snyder's appointment, Levin took pains to say that the new dean "is not coming here to transform SOM into Chicago." Levin later explained in an interview (see "Q&A: Rick Levin") that he wanted to reassure alumni that although Chicago has a focus on finance and economics, SOM's tradition of producing "well-rounded business leaders who are motivated to make a contribution to the wider society" would continue.
Until Snyder takes office, Sharon Oster will continue as dean, a post she has held since Joel Podolny left in late 2008. Oster and Levin are raising money toward a new $189 million building for the school that will allow an expansion from about 450 students to 600. Yale has postponed construction on any new projects that don't have gift funding, but Levin says he is confident that gifts will be secured to allow construction to begin this summer.
The university is currently seeking city approval for the project, a glass-and-steel courtyard building designed by the British architect Lord Norman Foster '62MArch. Some residents and preservationists oppose the project, which they consider out of scale and character for Whitney Avenue. In response, the architects have increased the setback from the building's southern and northern neighbors.