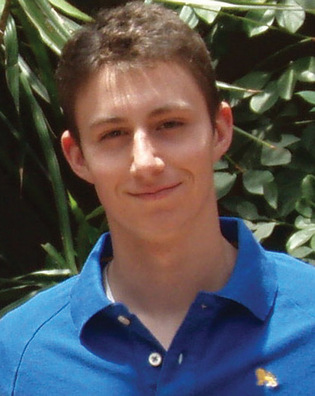 Facebook
Cameron Dabaghi '11 jumped from the observation deck of the Empire State Building. View full image
"I know I'm not alone in wanting to solve for x," said Berkeley College dean Kevin Hicks '89 at an April 13 memorial service for Cameron Dabaghi '11. "But this was a life—Cameron's life—not a metaphor, not a mirror."
Hicks was talking about the inevitable urge to make sense of the death of a popular, gifted, compassionate student who left the campus for New York on March 30, went to the 86th-floor observation deck of the Empire State Building, eluded guards, scaled a ten-foot fence, and jumped to his death.
At the April 13 memorial and at a candlelight vigil the night after his death, Dabaghi's friends and teachers told stories of an "effervescent," "put-together" friend, a "star student" with a "spark" and a "hearty laugh," who "made you feel comfortable, cared for, and important." And they expressed their grief.
"We may never comprehend what passed through his mind and weighed on his heart."
Dabaghi, who was 21 years old, was from Austin, Texas, where he grew up with a brother and a sister (Andrene Dabaghi '12, who is also in Berkeley). He played tennis for Yale's club team, majored in East Asian studies, and spent the fall 2009 semester in Beijing as part of the Peking-Yale Joint Undergraduate Program. Friends noted his intense determination to learn the Chinese language. The director of undergraduate studies for East Asian studies said he was one of the top students in the major.
Besides his accomplishments, those who knew Dabaghi also remembered his playfulness and his devotion to friendship. Fellow tennis player Eli Bildner '10 told about the time Dabaghi sneaked into the players' lounge at the U.S. Open, where he watched TV, worked out, and even took a shower. Nancy Lu '11, who studied with him in Beijing, told a moving story of how Dabaghi saw her crying, invited her to lunch, and—when she told him she had not been eating—popped a dumpling in her mouth and said, "I'm not leaving till you finish the whole plate."
None of the speakers at the memorials speculated about what had driven Dabaghi to end his life so violently. "What passed through his mind and weighed on his heart is a deep mystery we may never comprehend," said his friend Tommy Meyerson '11.
Even before Dabaghi's death (and three apparent suicides at Cornell this semester), the Yale College Council had been talking about the need for improved mental health resources at University Health Services. In a YCC survey, 29 percent of students who had sought counseling at UHS had had to wait more than two weeks for a therapy session. UHS chief psychiatrist Lorraine Siggins told the Yale Daily News that the new health services building, scheduled for completion this summer, will have room for more of the counseling staff to be on duty simultaneously.
UHS made extra counselors available to students in the aftermath of Dabaghi's death, and residential college masters and deans held gatherings for their own students to share their grief. "Call your people at home," Hicks urged students at the candlelight vigil. "And take care of each other."