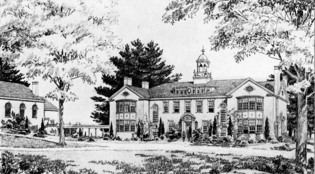 Manuscripts & Archives
New Haven Colony founder John Davenport established the Hopkins School (shown in a 1922 rendering of its current Westville home) in 1660. View full image
If the plans of the Reverend John Davenport, co-founder and religious leader of the New Haven Colony, had succeeded, today's alumni might be singing "For God, for country, and for Hopkins."
In 1660, Davenport founded the Hopkins Grammar School in New Haven and named it after its principal benefactor, Edward Hopkins. But it was Davenport's dream to establish both a preparatory school and a college, and Hopkins had given him funding for both. For 30 years, from 1638 to 1668, Davenport worked principally to establish that college. (George Pierson '26, '33PhD, in his 1988 history of Yale's founding, called it Davenport's "phantom college.") In the 1650s, favorable circumstances brought his dream close to realization. But the Restoration of the monarchy in 1660 put the New Haven Colony in a precarious position at a time when it was struggling economically. The colony failed in 1665, and so did Davenport's college plan.
Edward Hopkins, a prosperous lawyer and merchant, was a friend and parishioner of Davenport's, but he had joined the Connecticut Colony rather than settling in New Haven. He was the second governor elected in the Connecticut Colony and was reelected seven more times. Hopkins was also the first attorney to practice in Connecticut, and he became even wealthier in the fur trade, cotton industry, and shipping. But in 1649, King Charles I was beheaded, and Puritans came to power in England. Hopkins moved back to his home country three years later, where he became a Member of Parliament and navy commissioner. He remained so popular in Connecticut, however, that the colony elected him governor in absentia in 1654, hoping to lure him back.
This seemed an opportune time for Davenport to found his college. Theophilus Eaton, governor of the New Haven Colony, gave him 100 books to start a college library. Moreover, Harvard had recently endured a scandal when its president left the Puritan fold to become a Baptist. Because of this and Harvard's other suspected heresies, the New Haven colonists entered into the colony records their resolution that their sons should not be exposed to the "very leperosie of sinne" in Massachusetts.
Davenport wrote to Hopkins asking for his support for a new college. Hopkins replied on April 30, 1656: "That which the Lord hath given mee in those parts I ever designed the greatest part of it for the furtherance of the worke of Christ in those ends of the earth; and if I understand that a colledge is begun and like to be carried on at Newhaven for the good of posterity, I shall give some encouragement thereunto." Hopkins died the next year, and his will entrusted the residue of his estate to Davenport, Eaton, and two Hartford men "to give some encouragement in those foreign plantations for the breeding up of hopeful youths in a way of learning, both at the grammar school and college, for the public service of the country in future times."
But while the residents of New Haven were happy to have the grammar school, they were divided on the need for a college. Various reasons have been given for the failure of the "phantom college." Some have said that the colony—established by religious enemies of the crown—preferred to keep a low profile after the death of Oliver Cromwell in 1658 and the restoration of Charles II in 1660, and that therefore the colonists feared to start a second rival college in New England. In addition, in 1661, Davenport and his congregation further angered Charles II by audaciously hiding three regicides—Edward Whalley, William Goffe, and John Dixwell—on West Rock when the king's messengers came to arrest them.
Still, Davenport succeeded in establishing the Hopkins School, today the second oldest secondary school in the United States. The groundwork he did would benefit Yale when it was founded, 41 years after Hopkins: in its original chartered name, the Collegiate School, which Davenport had used; and in the Hopkins model of a semi-independent, self-perpetuating board of trustees.
Hopkins's first school building stood on the New Haven Green, though it's not known where. The second building was put up in 1723, across from what we now know as the Old Campus. In 1801 the school moved to Crown and Temple streets, and in 1838 to High and Wall. Yale bought the property in 1912 and later razed it to construct the Sterling Law Buildings. After a dozen years on Chapel Street, Hopkins moved to its present campus on Forest Road in the Westville section of New Haven.
Yale's first president, Abraham Pierson, had been one of Hopkins's first students. Yale's first enrolled student, Jacob Heminway, also attended. In all, more than 3,000 Hopkins alumni have attended Yale. From 1795 to 1921, every Yale president had a connection with Hopkins, as a graduate, trustee, or headmaster. More recently, President Hanna Holborn Gray graduated from Prospect Hill School, which merged with Hopkins when it became coed in 1972, and President Richard Levin '74PhD is a former trustee. Some other notable Yale-Hopkins alumni include Josiah Willard Gibbs, Class of 1858, '63PhD; Edward Alexander Bouchet 1876PhD; Charles Ives, Class of 1898; and Benjamin Spock '25. The first woman to head Hopkins—the current Head of School, Barbara Riley '73, '76MPhil—was a member of the first coed class that entered Yale College as freshmen.
Of course, Edward Hopkins himself had close connections with the Yale family—the literal Yale family. He married Anne Yale, Elihu's aunt.