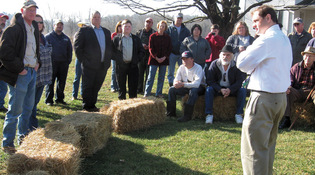 Office of U.S. Rep. Tom Perriello
At a meeting last winter at the Blackwater Valley dairy farm, Perriello fielded questions from farmers worried that the cap-and-trade climate bill will drive up utility bills. View full image
When the Danville Tea Party Patriots from southern Virginia joined hundreds of other activists on Capitol Hill last November 5 to protest health care reform, their congressman, Tom Perriello '96, '01JD, met with 30 of them in his office. Other Virginia politicians sent staffers to hear the Danville Tea Party's grievances. Some high-profile Republicans, like John McCain, had no time for them. Perriello's staff was the friendliest, Danville Tea Party chair Nigel Coleman said later.
Perriello isn't a Tea Party ally. He's a target. Perriello, a Democrat, had bested entrenched Republican incumbent Virgil Goode in Virginia's deeply conservative Fifth District by 727 votes in 2008—the narrowest of all congressional victories that year. Most of the people who are now Tea Party members didn't vote for him. Still, Perriello talked with Tea Partiers almost every day last August, when he held 21 town hall meetings in a bid to explain his thinking about health care reform and understand constituents' concerns. He spent much of every five-hour meeting being berated.
On that November afternoon, standing behind his desk in an office crammed with people, Perriello chose once more to listen. "How many people have to shout at you and how many people have to say, 'Please don't do this' before you listen?" asked an older woman in rectangular sunglasses and sweatshirt with a Revolutionary War patriot on it.
Perriello began, "As you can imagine, I have lots of people saying the opposite and lots in the middle—"
The shouting drowned him out. "Go ahead," he said. "I can just listen." Then he tried again: "I've said all along that I'm a no"—on the health care reform bill—"trying to get to yes. I try to be really up-front with folks about where I am on things." The activists buzzed loudly, and he relented again and just listened.
One young woman asked, "Do you believe it will benefit Virginia?" Before Perriello could answer, another woman said, "It doesn't matter."
Perriello explained briefly that though the bill was flawed, he had moved from no to undecided. He approved of the $300 billion cut from earlier versions of the House bill and of the increases in compensation to rural hospitals, which serve many in the Fifth District. Mostly, Perriello, nodding and listening, let the crowd vent.
For many of the visitors, his nodding signaled agreement. Coleman and others left feeling that they had convinced Perriello to vote against the reform bill. Two days later, on November 7, watching the voting from home, they were heartened that Perriello still asked questions and that he was among the last to vote. But he voted yes.
The Danville Tea Party activists got angry. Most had taken time off work and driven 12 hours round-trip to Washington to plead with Perriello, and yet he'd voted his own way. It was a "point of no return," Coleman said later. And the Danville Tea Party decided to burn their congressman in effigy.
Perriello, who grew up in the Fifth, isn't the only congressman to rile constituents this heated political season. But when he decided to run for office, he brought a brand of politics so unusual that it has made the Fifth District the site of an interesting electoral experiment.
As a whole, the Fifth District is "about five points more Republican than the national average," says David Wasserman of the Cook Political Report. Most Democrats who represent districts as conservative as the Fifth identify as "Blue Dogs" to bolster their reelection chances. Glenn Nye, a freshman from the Second District, is a member of the Blue Dog Coalition and voted against health care reform.
Perriello, a local journalist has said, acts like he doesn't care whether he's reelected. It would be truer to say he isn't about to change in order to be reelected. He ran on a strategy of "conviction politics"—the notion that if voters knew where he stood and he worked hard for them, they would elect him even if they didn't agree with him on everything. Margaret Thatcher and the late Minnesota senator Paul Wellstone have been called conviction politicians. "We have a cookie-cutter politics, and there aren't many outliers, so there aren't many examples to follow," Perriello says. "Conventionally, people look at only the binary: you win or lose an election. But you can make a positive impact on people's lives through another kind of politics. You can leave politics with your head held high if you've done the best you could."
He quickly adds: "That may sound Pollyannaish."
During his tenure, Perriello, 35, hasn't veered substantially from his 2008 campaign agenda. He argued forcefully for health care reform, calling the American health care system a "travesty" in one debate. He voted for the House cap-and-trade bill on climate, partly because he believes it will bring jobs to communities in his district that had double-digit unemployment even before this recession. He voted for the stimulus plan. Against a backdrop of rising conservative rage and a Democratic party in retreat, Perriello himself is now the outlier.
"He is different from other politicians, and to me, that is part of his strength, and it's also a weakness," says a prominent businessman from Perriello's district, who asked not to be identified because he doesn't want to be seen as taking sides in the upcoming election. "It's a strength because we need more people like that in Congress—someone who works hard, focuses on the issues, listens—the kind of thinking person you would like to have in there. It's a weakness in that he's not willing to do the political things needed to get reelected."
Perriello's critics see arrogance in a congressman who gives his own convictions greater weight than the wishes of his constituents. Although the members of the Danville Tea Party ultimately decided not to burn him in effigy, it was a tactical decision. They're still angry—even more so now that the health care bill has passed—and so are many other conservatives. Says Tucker Watkins, head of the Fifth District GOP: "His conscience is very different from the views of people in this district."
Perriello's calculation seems to be that if he's highly accessible and brings jobs and other improvements, voters will reelect him. Even many of Perriello's critics give him grudging respect for sticking to his principles. But given how ideologically polarized the country is, they—and some political analysts—consider his stance a grand act of political suicide.
"This is don't-try-this-at-home politics," says Isaac Wood, House race editor for Sabato's Crystal Ball. "It worked for Tom Perriello once, but he hadn't cast the votes yet. Once he casts the votes, we'll see if this can work again. What's going to make this a story for the ages or not is what will happen in 2010. If he wins, he really has shown a new way that conviction politics is possible. If he loses, he's just another congressman who voted against the wishes of his district and paid the price."