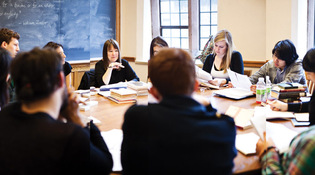 Peter Yang
Fadiman and students in her 2010 spring seminar, Writing about Oneself. View full image
A student, whom we will call Amy Smith, stands behind her chair in a small classroom in Linsly-Chittenden Hall, holding two pages of paper. Her hands seem unsteady. Perhaps this is because she is about to reveal to the dozen or so other students in this class that she has bipolar disorder. Intimate confessions of this nature are not unusual in this particular seminar, Writing about Oneself, taught by the renowned nonfiction writer Anne Fadiman. Fadiman always insists that her students read aloud. "I want them to feel that their words are important," she says.
Smith reads her essay quietly, but with great feeling. The first paragraph states her diagnosis so simply that it seems almost an aside. The essay is beautifully written, in stark but elegant prose. It describes, among other things, the moment in Smith's childhood when she realized her father was mentally ill: "When I was six, I went to the kitchen expecting breakfast and found my father frying Sesame Street videotapes in the cast-iron skillet. The charred plastic littered the kitchen for days; the smoke stained the walls for the whole summer, until my father was released from his month-long stay in the hospital and repainted the entire house as penance. He also mended the holes he'd made in the walls and bought a new couch to replace the one he'd gutted with a butcher knife one night while we were sleeping."
When Smith has finished reading, silence pervades the classroom. Then Fadiman says that she likes the piece very much, genuinely admires it. She has several suggestions—gently encouraging Smith, for instance, to include more on her father's violent tendencies. "When you talk about his thick hands and stinging words we don't know whether the hands were actually used to hurt anyone," says Fadiman; the key, she adds, is to say so "matter-of-factly."
Another student cautiously dissents: "I thought the mention of him cutting up the sofa, though—for me—was all the violence I needed."
Fadiman considers this. It must be odd for a woman who has edited the likes of Cynthia Ozick and Stephen Jay Gould, and who has been a National Magazine Award finalist six times as a writer and twelve times as an editor, to be contradicted by an undergraduate. But she merely nods her head appreciatively. Fadiman goes on to tell Smith that she also wants more specific examples of Smith herself "being manic or depressed." This will provide balance: "Then we would feel that you weren't revealing things about your father that you were unwilling to reveal about yourself."
Finally, Fadiman asks: "Did it feel like a relief, or was it just really horrible to write it?"
Smith says it was indeed a relief to write and share the piece—"although it's very odd to me. You guys know this, and no one in my family except my mother knows. This isn't bad. I guess it's good for me. But it was a profoundly strange and cathartic experience."
Writing about Oneself (the course) can be cathartic because writing about oneself (the act) can be cathartic. The self-revelations aren't usually as dramatic as the one in the essay Amy Smith read in spring 2009. But Paul Needham '11, who wrote one of his essays on a friend's suicide, says some students joke that the course is like therapy.
But students have written about topics as varied and non-therapeutic as cutting wood, making pie, learning classical Greek, driving one hundred miles an hour, and falling in love with a photograph of Virginia Woolf. To Fadiman, catharsis isn't the point. She admires the bravery of a student like Amy Smith. But "courage and good writing aren't the same thing," Fadiman says.
In an e-mail, she elaborated: "When I read the applications and writing samples, I never choose someone who has had an interesting life—that is, who obviously has 'something to write about'—over someone who can write a beautiful sentence. The most important thing I'm looking for is a graceful relationship with the English language."
Fadiman has been teaching that graceful relationship at Yale since January 2005—Writing about Oneself every spring and Advanced Nonfiction Writing every fall. Both seminars are extremely popular, especially the personal essay course: a hundred students apply every year for a dozen slots. (The numbers have "nothing to do with me as a teacher," Fadiman insists. "It's the subject that exercises a magnetic effect.")
Each class meets for two and a half hours. The workshop session, in which students read their work aloud for critique, takes only 30 minutes. The rest of the time is spent analyzing the week's reading assignments. The nonfiction students read contemporary American authors, including Joan Didion, John McPhee, and Henry Louis Gates Jr. '73. The personal essay students read first-person pieces spanning two centuries—one old and one new every week.
On the day Amy Smith read her piece, the theme was Family, and the readings were James Thurber's "The Night the Bed Fell" and Dave Eggers's Heartbreaking Work of Staggering Genius. The theme of the discussion was less Family than How They Did It: how Thurber used standard humor techniques from dramatic irony to well-placed funny words, and how Eggers turned the idea of memoir on its head by constantly questioning his own motives for writing one. Through such discussions, Fadiman teaches craft. On the first page of the Writing about Oneself syllabus, she declares, "I believe it is impossible to write well without learning how to read well."
Fadiman commutes to Yale from western Massachusetts, where she lives with her teenage son and her husband, George Howe Colt, also a nonfiction writer. Colt and Fadiman meet the challenges of the two-writer household with a rotating employment system. One writes a book while the other holds down a job with a steady paycheck and health insurance, and then they switch off. The employed half of the couple also serves as in-house editor for the writing half. Fadiman edited Colt's most recent book,The Big House, which was a finalist for the National Book Award.
As the Francis Writer-in-Residence of Yale College, Fadiman also lives in Branford College at least one night a week. The arrangement keeps her close to the pulse of student life, she says. "Whether it's the smell of the secondhand marijuana smoke under the door, or the sound of the rock music at three in the morning, or the sight of the people lurching home in an alcoholic stupor—it definitely brings me back to my college years. I'm right in the thick of it."
She also has an office in Branford, crammed with five chairs, a couch, a desk, an end table, two bookcases, a Persian-style carpet, a quilt on the wall, copious books, and countless papers. It looks almost as if someone had packed up a tastefully furnished living room, put everything in a very small spare bedroom, and then decided to call that spare bedroom an office. Here Fadiman holds her workaholic office hours. Every week she meets one-on-one with half her class—six students—for an hour each. In these sessions, she sits at her computer with the student at her side, and they go through the student's essay, line by line. "Oh, it's lunatic," she admits, "but I never can do anything by halves."
When Fadiman met with Rebecca Dinerstein '09 to discuss her essay on being an exceptionally picky eater, the session began with Fadiman on the couch and Dinerstein in a chair. (This is standard practice for the first half hour, one student told me, "so that it doesn't feel like you are at a therapist's. Because if you were on the couch it would be too weird.") Fadiman was dressed casually, in an earth-toned shirt and pants; unlike most female literati, she doesn't dye her hair or wear ostentatiously bohemian reading glasses. "Did you survive tap night—not too hung over?" Fadiman asked, and they chatted for a few minutes. The conversation soon morphed into a broader discussion about Dinerstein's writing aspirations, and then turned to her essay. After half an hour, almost to the minute, Fadiman asked Dinerstein to join her at her desk, and they went over every line in the piece, analyzing its grammar, tone, fluidity, and originality.
The process can be painstakingly slow. Early in the semester, these dissections rarely make it past the first paragraph. But the reviewing goes faster as students start finding the problems themselves.
One might think a writer as accomplished as Fadiman—three books, scores of published articles, several awards—would have little interest in teaching the craft of writing to undergraduates, down to the fundamentals of grammar, year after year. Precisely the opposite is true. She almost seems to revel in the role of the sentence-parsing New England schoolmarm, pushing every student to master the difference between a restrictive and a nonrestrictive clause. "Anne cares equally about the emotional parts of being a good essayist, like not lying your way towards a tidy conclusion, and about the technical parts, like studying the canon or mastering the semicolon," says a former student, Sarah Stillman '06.
Still, after five years, is it nearly time for Fadiman to switch jobs with her husband and turn out another book? I asked whether, in her time at Yale, she has ever felt anxious to get back to writing. "Never, never, never, never," she replied, explaining that she has much to learn as a teacher, whereas her learning curve as a writer has "kind of flattened." That sounded surprisingly pessimistic, until she elaborated: "I think it flattened out at a fairly high level, so that's not exactly a disappointment."
Having achieved that peak, Fadiman has the luxury of teaching. "When I'm 80, I don't want to look back on my life and just picture myself sitting alone at a computer," she said. "There's a lot more to the world than writing."