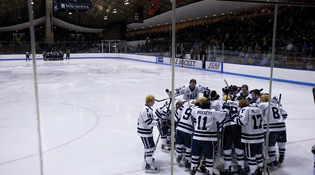 Bob Handelman
Pregame huddle before a March 13 game against Brown. View full image
On the last Saturday before Thanksgiving, hours after the football team's epic collapse in The Game, hockey goalie Ryan Rondeau '11 nearly frittered away another big Eli lead. Facing Brown in Providence, Rondeau allowed five goals on 19 shots, ceding a three-goal Yale advantage before being pulled.
But in this game, the Bulldogs rallied to win in overtime, 6–5. It was a heartening reminder that the hockey team has become the winter antidote to Harvard-induced football affliction.
After the Brown win, coach Keith Allain '80 continued to burnish Yale's reputation as one of college hockey's elite programs. By season's end, Allain had never settled on a goaltender, but the offense was leading the nation in scoring, at more than four goals per game. Yale could do no wrong in February: a seven-game winning streak clinched a second straight ECAC regular-season conference title, and the team ranked as high as fifth in the national polls that month.
But then the outlook turned grim. On February 28, star winger Sean Backman '10 and some other students broke into the pool at Payne Whitney Gymnasium after hours. Backman slipped and fell—fracturing his heel bone and ending his season. (Backman landed on his feet, as it were: the Dallas Stars of the NHL signed him to a contract in March.)
Without Backman, Yale was upset by Brown in the ECAC quarterfinals—blowing its chance at a second postseason title. The Bulldogs still made the cut for the 16-team NCAA tournament, drawing North Dakota, then the hottest team in the country, as their first opponent. The Fighting Sioux had won 12 of their last 13 games including their conference tournament title, were ranked fourth, and boasted 16 NHL draft picks on their roster. (Yale had none.)
Summoned from pseudo-exile to make his first start since the November game at Brown, Rondeau shut out North Dakota for two periods while Yale seized a 3–0 lead. Rondeau and his defense weathered two quick goals early in the third period—part of a 16-shot onslaught—to hold on for a 3–2 win. It was Yale's second-ever NCAA tournament victory, and the first since 1952.
But Yale's luck ran out the next day against Boston College, the eventual national champion. The Eagles outlasted Yale in a wild, 16-goal affair to advance to the Frozen Four. The same Bulldog scorers who had riveted campus all year long provided Yale fans a blizzard of goals in their final performance. But, in keeping with a season-long theme of erratic goaltending, even seven Yale goals were not enough. Rondeau, Billy Blase '10, and Jeff Malcolm '13 collaborated on a 9–7 loss.
There were postgame plaudits for the Yale offense, which had fought more than halfway back from a 9–4 deficit in the final minutes. Mark Arcobello '10 punctuated his magnificent career with three goals and three assists. But the statistics gave little consolation. "If only I'd played as good on defense as I did on offense, I could've prevented a couple goals," Arcobello says.
It is telling that a Yale team could be so disappointed about finishing one win short of the Frozen Four. Four years after taking over a 20-loss program, Allain has transformed the culture inside his locker room and assembled a thrilling product on the ice. And the Yale community has boarded the bandwagon. "I don't get too caught up in it," Allain says. "But I sense it. I hear from classmates that I haven't heard from in 15 or 20 years that are excited about our hockey team. It's a wonderful feeling."