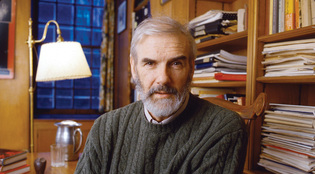 Michael Marsland
Jonathan Spence '65PhD will give the Jefferson Lecture in May. View full image
"This is rather a big lecture for me," said 'Jonathan Spence '61MA, '61UGRD, '65PHD on March 31, in between visits to the Beinecke and Sterling Library's map collection to research an upcoming speech.
"A big lecture"? Spence is a Sterling Professor Emeritus, a MacArthur Fellow, and the recipient of honorary degrees from the likes of Oxford and the University of Hong Kong. Two generations' worth of undergraduates have asked one another "Have you taken Spence yet?" as if his courses on Chinese history were graduation requirements. What kind of lecture could possibly be big for Jonathan Spence?
Perhaps the lecture that the U.S. government calls its "highest honor for distinguished intellectual achievement in the humanities." Spence has been selected by the National Endowment for the Humanities to present the 39th annual Jefferson Lecture on May 20, in Washington, DC. He joins the ranks of such previous Jefferson lecturers as Arthur Miller, John Updike, Henry Louis Gates Jr. '73, Robert Penn Warren, and Toni Morrison.
Spence's lecture will be "When Minds Met: China and the West in the Seventeenth Century." His books have addressed the "discovery" of China by western travelers in that critical period, but this time he views the process in reverse, focusing on one of the first Chinese to reach Europe, a Jesuit-educated linguist named Shen who visited the courts of France and England in 1680. The research on this little-known figure "has become like a detective story," Spence says.