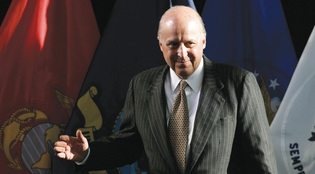 Associated Press
John Negroponte '60 will draw on 44 years of government experience in his new post at Yale. View full image
At press time, the campus was still speculating about which Yale faculty might be lured away to work for the Obama administration. But the Acela train runs both ways. Fresh out of a job as President Bush's deputy secretary of state, John Negroponte '60 will be coming to Yale in the fall to teach in the Grand Strategy program.
It would be hard to find a teacher with a wider range of experience in foreign affairs. Negroponte joined the Foreign Service right out of Yale and served in several posts before becoming Ronald Reagan's ambassador to Honduras in 1981. He was ambassador to Mexico and to the Philippines before moving to the private sector in 1997. Under George W. Bush, he was ambassador to the United Nations, ambassador to Iraq, and the first director of national intelligence before becoming deputy secretary of state.
Equipped with a three-year appointment and the polysyllabic title Brady-Johnson Distinguished Senior Research Fellow in Grand Strategy and Lecturer in International Affairs, Negroponte will join an all-star Grand Strategy team that includes former diplomat Charles Hill and history professors John Lewis Gaddis and Paul Kennedy. The highly selective program, launched in 2002, seeks to synthesize the study of political and military history, diplomacy, and international relations. The yearlong class, open to undergraduates and graduate students, includes a crisis simulation, frequent meetings with heavyweights like Henry Kissinger, and ritual presentations on broad topics by students who undergo merciless grilling by their professors.
Negroponte will also do some teaching on his own. "I expect to teach a course that will draw on my personal experience," he says. "The intent will certainly be to relate my past regional and national security experience to the contemporary scene."